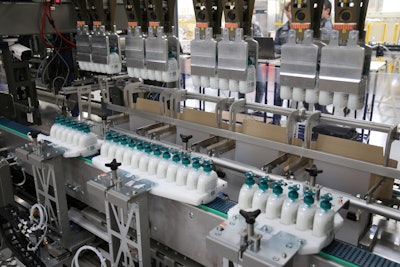 It can also anticipate customized retailing needs during production.
Packaging solutions manufacturer Sidel's Cermex EvoPack offers an unprecedented secondary packaging size range to manage reduced case counts, containing only two, three, or four products, as well as very large transit cases with 24+ containers intended to go into repacking, while at the same time also being able to handle standard high-volume case formats. "With its flexible and extreme case count capabilities, the platform can help producers restore industrial margin thanks to significant cost savings as regards the use of material, equipment and energy. Additionally, it will certainly greatly contribute to meeting their carbon footprint reduction and sustainability goals," says Didier Saussereau, Packing Product Manager at Sidel.
Delivering a remarkable ratio of up to 60 cases/min in a compact footprint of less than 30 square metres, Cermex EvoPack offers fast and repeatable format changeovers ranging from just five minutes for a case format change up to 15 min when changing both bottle and case formats.
"Our goal was also to make the equipment easy to operate and maintain, so we designed Cermex EvoPack by embedding the latest Industry 4.0 technologies, to guide operators and maintenance teams in their daily operations," concludes Didier.
Companies in this article