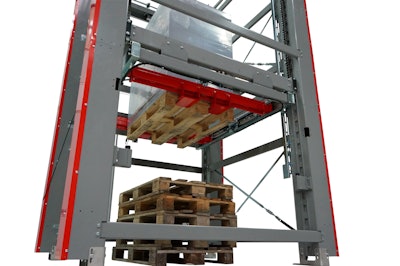 Due to its extremely compact design, based on the popular Qimarox pallet lift, this maintenance-friendly stacker is easy to integrate into virtually any material handling system.
Qimarox's Prorunner mk10-PS makes stacking loaded pallets faster and simpler. It takes a loaded pallet off a pallet conveyor and lifts it up. When the next pallet is transported to the same position, the stacker lowers the first pallet again until it is on top of the second. All the forklift driver has to do is remove these stacks from the conveyor and transport them to the correct destination.
The automatic pallet stacker is based on the modular design of the Prorunner mk10. The 4-column construction and the lifting mechanism are completely identical. Only the pallet lift carrier has been replaced by a newly designed pallet clamp module. It has two short forks at the front and rear that can move in and out of the pallet openings. These forks lift the pallet to any desired, adjustable height, so that the next pallet can be transported underneath.
An advantage of the Prorunner mk10-PS is its extremely compact footprint. The 4-column construction is placed over the conveyor instead of next to it. Because the pallet is lifted at both the front and rear, no extra space is required next to the pallet conveyor, as in solutions with long forks that lift the pallet from the side. This makes the Qimarox automatic pallet stacker easy to integrate into virtually any existing final packaging or logistics system.