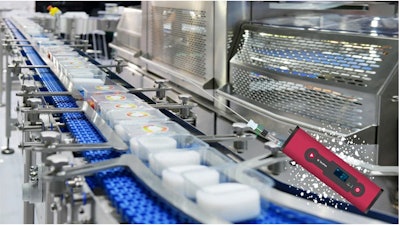 GasLab's Tecpen works by using a thin, hollow needle and micro-pump to take gas samples through the packaging material using a septum. This device is ideal as a gas analyzer for quality control during modified atmosphere packaging (MAP) testing shrink wrapped or vacuum sealed food products.
In addition to its usefulness as a MAP oxygen analyzer or a head space gas analyzer, because it is hand-held and rechargeable the TecPen can be used in the field for controlled atmosphere storage (CAS) applications.
The TecPen is also useful as a head space gas analyzer for quality control testing of safety sealed containers for pharmaceuticals, makeup, skin care products or in any application where oxygen can impact the safety, freshness or longevity of the product.
In the lab, the TecPen can be useful in biochemical and molecular biology research as well as testing for pathogenic microorganism growth in sealed containers.
The secret to the TecPen's speed and low-oxygen level measurement performance is its opto-chemical oxygen sensor technology.
The benefits of opto-chemical sensing are speed and accuracy. The TecPen's sensor can respond to changes in oxygen levels in less than a quarter of a second. Because of the time it takes the micro pump inside the TecPen to pull the gas sample to the sensor it can display the oxygen level in as little as 3 seconds. This is a direct result of the inherent accuracy of opto-chemical sensors, as the TecPen can measure oxygen levels down to 0.01% or less than 4 ppm.
Analyzer features built-in data logging of time-stamped oxygen level measurements for quality control. Data can be downloaded as industry-standard .CSV files via the same USB cable that is used to recharge the built-in Li-Ion battery. This makes the TecPen useful when data must be logged and stored for food quality control and analysis.
The TecPen Oxygen Analyzer comes pre-calibrated from the factory. It only requires two buttons to operate: power on and start the measurement. Each time a measurement is taken, the TecPen displays it in large characters on the LCD screen. If the sample shows no presence of oxygen, the packager can be confident the MAP system on the production line is working properly. If the oxygen level is not low enough to meet the required standards, this means a problem is present and the packaging line should be stopped and corrected.
---
Join us for "The Most Engaging Virtual Event for the Entire Industry" at PACK EXPO Connects, November 9-13. Live demos of equipment and products, live chat with product experts, expedited product search, and more. Attendee registration opens September 15. Be notified when the site goes live by clicking here.
---
Companies in this article