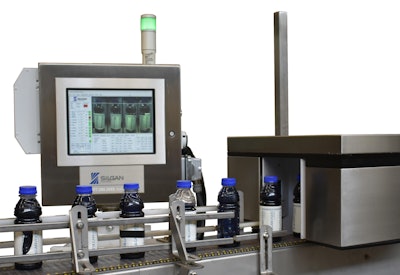 Examples of products that can be inspected include beverages, sauces, other food products, and household goods, as well as products with standard wraparound labels. Multiple GigE cameras inspect the full length labels at speeds of up to 800 containers/min, efficiently detecting label errors to ensure that only completely and properly labeled packaged products reach retail store shelves. Label images are processed in the GigE cameras using Windows 10 software, increasing throughput capability.
The 51R84 system inspects each full-length label from the container base to the neck ring below the tamper-evident band for folds and tears (which may obscure critical product ingredients) and irregular label seams. It confirms proper label height on the container and sends alerts when labels are missing. System software identifies containers with defective labels for rejection optional pneumatic or soft touch ejectors before they can exit the facility.
The 4 GigE label inspection cameras produce a 360 deg image of each label, using LED lighting to enable clear label images. The earlier 51R84, which inspected only partial-bottle labels, used overhead lighting that sometimes produced unequal lighting and glare from irregular label surfaces.
Cameras are repositioned in the new system, letting them scan the entire container to achieve clear 360 deg images. Full-length shrink labels can be subject to wrinkles resulting from uneven shrinking at the container neck and bottom, and the 51R84 software has been modified to identify these potential defects.
The modified lighting and camera positioning also enhance the system's ability to inspect partial-bottle labels. The new system can inspect partial and full-bottle labels interchangeably to meet production demands.
In response to customer requests, Silgan also developed the companion 51R85 vision system. It includes all the features of the 51R84 plus a fifth camera that inspects container necks for cocked caps and damaged tamper-evident bands.
The system's vision tunnel is mounted on a stand that fits over an existing conveyor, eliminating the need to break into a line to provide space. The unit raises or lowers automatically to inspect different height containers. The system HMI has a 15-inch touch screen interface allowing access to inspection menus and speeding changeovers. Menus store up to 70 label inspection target configurations.
Both the HMI and the vision unit are NEMA 4X rated, providing watertight washdown protection. The system is driven by a solid-state hard drive with backup function, and an Ethernet bay for online connectivity. Access to the system is password protected to ensure personnel can access only the functions for which they are authorized.
Companies in this article