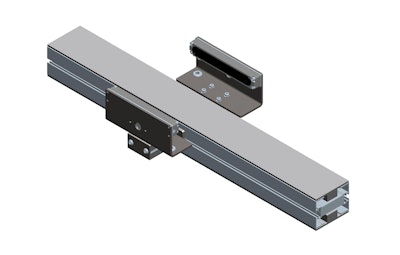 Dorner's clamping module option for conveyors is ideal for totes, boxes, bottles, and square, round, and rectangular containers. As products pass through the clamping module, pre-programmed photo sensors trigger a pneumatic-clamping actuator that is mounted on both sides of the conveyor. The clamping module produces a gap of about one product length; product must be able to withstand some back pressure and squeezing force.
Features and technical specifications of the clamping module include:
• Maximum single product weight: 2.3 Kg (5 lb)
• Maximum product accumulation weight: 13.6 Kg (30 lb)
• Fixed or adjustable width Clamping Module option
• Maximum conveyor speed: 50 m/min (164 fpm)
• Mounting for photo sensor with 18 mm barrel
• Available on FlexMove conveyors:
    • FS (65 mm)
    • FM (85 mm)
    • FC (105 mm)
    • FL (150 mm)
   •  FU (180 mm)
    • FV (260 mm)
Information to know at time of order includes conveyor width, product width and centerline of clamping actuator above conveyor chain.

Companies in this article