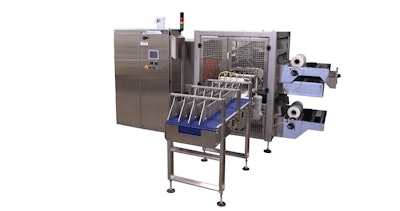 The bundler's new modular design offers dairy companies, copackers, and other customers the opportunity to customize their machine for maximum productivity based on the layout of their plant and to receive the unit in 12 to 14 weeks rather than 18 to 20, a six-week reduction in manufacturing build time.
Featuring toolless changeover, a recipe driven HMI, and a servo driven main ram, the Tekkra 200 enables fast changeover for maximum flexibility in bundling a range of SKUs. Tekkra 200's servo driven seal assembly ensures fast and repeatable seals. The rugged stainless-steel or powder-coated mild-steel frame is designed for years of reliable operation.
To ensure that the bundler leverages the plant's layout, Texwrap offers a choice of infeed conveyor widths, right or left side infeed orientation, discharge options of straight, right, or left, and a selection of tunnel lengths. The unit on display at PACK EXPO, for example, features a 30-in. infeed and 70-in. heat tunnel. Other custom options include product specific collation systems such as lane dividers, stackers, feed screws, pick and place systems, bundle stackers, and film splicing stations.
Texwrap warrants the 200-series for three years.
Companies in this article