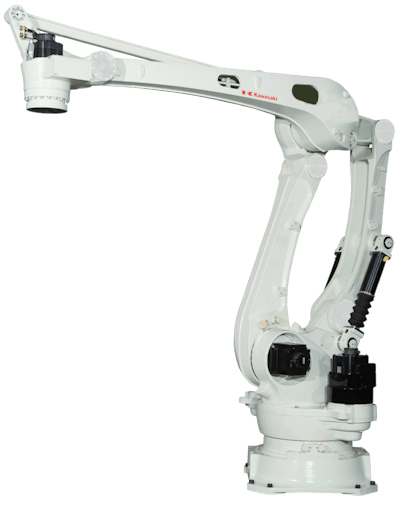 Large work envelope
The high vertical reach capability of the robot is ideal for tall pallet creation and multi-lane applications where the robot is required to reach over incoming and outgoing production lines. At 3,256 mm, the high vertical reach capability of the CP series robot is ideal for tall pallet stacks and multi-lane applications. The extra-long horizontal reach of 3,255 mm allows for one robot to be used to cover up to four pallets.
Space and energy saving controller
The CP series E03 controller is only 25% of the standard palletizing controller size (41% with transformer unit) and fits under conveyors and other equipment. The E03 controller generates electric power while in a deceleration mode, reducing energy consumption and minimizing CO2 emissions. The optional transformer unit for the CP series controller provides an additional power connection for AC380V/480V to the controller standard of AC220V.
User-friendly palletizing software
Available as an option, Kawasaki's K-SPARC palletizing software enable s users to quickly and easily simulate layout planning and operations, as well as create robot operation programs on a computer.
Companies in this article