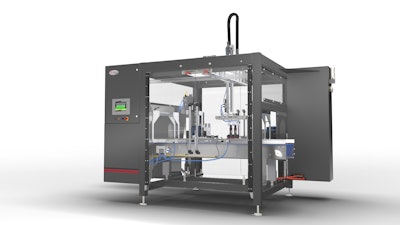 Delkor's new is designed with key performance features in mind, including pick-and-place gantry and an innovative infeed system. With the capability to pack tapered cups, bottles, and a range of other rigid container shapes and styles, this top-load case packing system offers maximum flexibility for minimum investment. A variety of configurable options enables this machine to load containers into multiple secondary packaging styles, including:
• Trays or Tray-Shrink packaging
• Standard "Brown box" shipping cases
• Retail Ready Delkor Turbo Case® Packaging (Patented, US & Intl.)
• Economical Delkor Spot-Pak® Packaging (Patented, US & Intl.)
The system is designed to fit into tight plant layouts with a 6-foot square frame layout and virtually no infeed accumulation required. The machine's modular design and offset infeed conveyor allow for ultra-compact layouts with an optional integrated case erector and/or case sealer while to further minimize the footprint of the entire system. The Performance Loader can also seamlessly integrate with a plant's new or existing case erectors, sealers and wrappers.
The new Performance Loader is fully servo driven for speed and precision as well as quick format changes through pre-programmed product recipes. A servo-driven infeed system and optional servo-driven case flap control further maximize case packing efficiency. The system is equipped with innovative 3D printed pickup heads that include quick release couplings to enable fast tooling changeover and flexibility to handle a wide variety of container formats. Additional features of the Performance Loader include:
• Crash detect sensors on the loader heads to protect pick heads and gantry system
• Separate high and low voltage electrical cabinets, a standard feature on all Performance Loaders
• Standard powder coated frame or optional stainless-steel frame for demanding environments
• Full height doors allow for unhindered access for maintenance and sanitation
Companies in this article