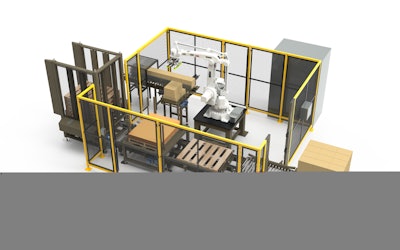 These cells feature compact footprints, ranging from the smallest 11.5 x 17.5 feet up to the largest 15.5 x 22.5 feet.
The RPX Series gives small- to medium-sized food and manufacturing companies the opportunity to quickly, easily, and cost effectively advance from manual to automated palletizing of cases, trays, bags, pails, and other packaging. The RPX Series reduces the number of employees on the packaging line and lowers the risk of repetitive motion injuries within the plant.
RPX Series cells are delivered to the customer with two pack patterns already installed. New pack patterns are easily entered via touchscreen display, giving food companies and manufacturers the flexibility to easily and quickly adapt to new orders and customer requirements. RPX Series cells can be delivered in as little as 14 weeks, about half the time of custom systems, with end-of-arm tooling to meet the demands of today and the changing requirements of tomorrow.
Brenton engineers designed a quick connect modular platform to install cells in just hours. These modular cells are easily disassembled, moved, and reassembled as plant conditions change. The RPX series was also designed to ensure the safety of its operators, meeting Category 3 safety standards, as well as designed to sustain a long and productive life.
"Brenton recognized that many small- to medium-sized plants do not require custom solutions, but instead will benefit from affordable, configurable, and reliable modular systems that can be delivered quickly," said Jason Enninga, Vice President of Sales, Brenton.
Companies in this article