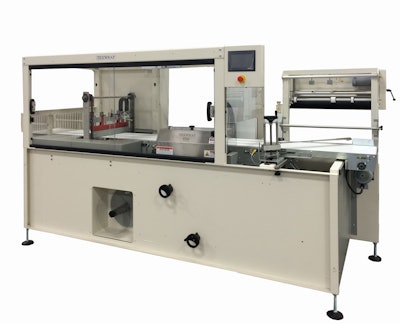 In addition, the 1607's center-line design and advanced sealing technology, normally found on higher-end units, efficiently run many different types of packages, giving the operation greater flexibility and a competitive advantage.
Center-line machines like the 1607 are fast to changeover as they do not require time-consuming conveyor adjustments for new SKUs. Texwrap Versa Seal side seal technology consumes less film than competitive sealers for a materials cost savings. Simply set Versa Seal to the film type and there are no further film adjustments needed. The Versa Seal also automatically compensates for various film speeds and delivers a quality seal on both thin and thick films.
The 1607 features a color touch screen operator interface for easy access to package recipes and maintenance information. Today's workforce will find screen navigation intuitive. Mechanical systems and height and width adjustments are easily accessible. The 1607 can be ordered in either a right- or left-hand version to accommodate a plant's layout. Its small footprint conserves valuable floor space. Whether shrink wrapping or just bagging, the 1607 runs both polyolefin and polyethylene films. Texwrap warrants the 1607 for three years.
Companies in this article