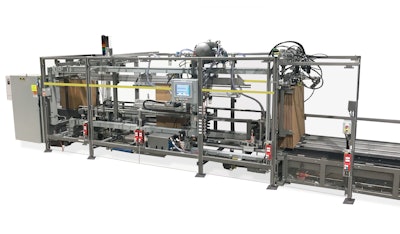 It can erect RSC and HSC cases with left- and right-hand case presentation on one reliable system.
The machine utilizes intermittent motion and has positive case handling and positioning throughout the process. This case erector employs servo technology so all adjustments based upon case size are motorized and deployed via pre-programmed recipes on the HMI.
The WLRV-CE handles a very large range of case sizes (the smallest size being 6 in. x 6 in. x 4 in. to the largest size 24.5 in. x 20 in. x 18 in.). The machine can erect both right– and left–hand cases through the implementation of a patent-pending, multi-axis servo erecting station which seamlessly switches between collapsed case opening direction via HMI selection.
"As customer production requirements continue to grow to deliver multiple product sizes, the need for quick changeovers and reduced labor to operate becomes increasingly important," said David DiDomenico, Vice President of Sales and Marketing. "The WLRV-CE provides customers with the required flexibility for the ever-changing production runs to meet the demands of the market."
Companies in this article