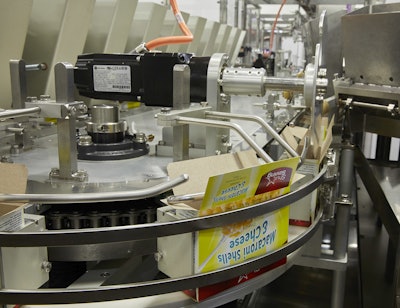 The VXL cartoner is loaded with pouches from the intelliFEED system. A custom-designed PMI KYOTO starwheel turns pouches 90 degrees as they exit the bulk feeder onto the carton loading trays. Pouches are gently prepped for loading with a rotary tamper before a tilt-tray system delivers pouches into the carton. The system can deposit up to two pouches per carton.
Dry, loose product is delivered to the VXL via a volumetric filler or combination scale and deposited into an oval spout system. This system synchronizes with carton loading pockets to place ingredients in the carton, which already contain the pouch.
Quality is ensured with an open flap detection and reject station, in addition to a no-carton, no-product fill control feature. A Nordson ProBlue hot melt system and a sift-resistant, reverse fold carton-sealing feature provide additional seal integrity assurance.
The VXL is available in washdown construction with a welded stainless-steel base frame and meets Category 3 Safety compliance. In addition, the system is UL approved and powered by Allen-Bradley featuring ControlLogix with a PanelView HMI and Kinetix servos.
Companies in this article