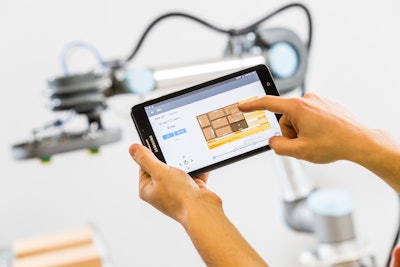 It's user-safe, making a fence system or a cage unnecessary and instead lets the operator work side-by-side with the robot.
The palletizing solution is delivered with one electrical cabinet driving both the conveyor and the robot. The electrical cabinet has a maximum capacity of 1200 VA, single phase 50/ 60 Hz. It can be powered by both 110V and 230V and is delivered with both options.
An internal vacuum pump is included which makes it possible to effortlessly move the palletizing cell, no external air supply is needed. The vacuum pump is quiet (68.9 dBA) making the operators work environment more pleasant.
The smart design with quick connectors contributes to a fast and easy installation in only a couple of hours. FlexLink's tablet application with intuitive interface ensures easy layer configuration, without any need for complicated robot programming. The layer configuration application cuts down the installation time as well as the education/ introduction time for the operator thanks to its user-friendly software with drag-and-drop interface. It is possible to run several cells from one tablet.
The palletizing solution comes in several different modifications such as conveyor positions, grippers, and pedestal lengths. All modifications can be made in your ordered.
Companies in this article