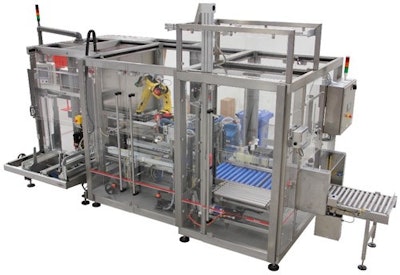 The machine uses Fanuc M10 (6 axis) robot that not only collates the products, but also preconditions the cases for repeatable carton loading and is used to tuck in the rear top flap for closing.
The innovative routine for preconditioning the case allows minimal clearance between the product collation and the case, providing material costs savings and maximizing pallet utilization. It also negates the need for an additional mechanical loading mask and associated size-change parts, reducing inventory, changeover times and maintenance.
The robot and glue systems directly interface with the Rockwell Automation ControlLogix "PAC" using pre-loaded customized add-on instructions. The same "PAC" unit is used to control the multi-axis case handling system. This monoblock machine with integral electrical control allows for simple, fast installation and commissioning.
When the ZX600 is integrated with other Bradman Lake equipment (downstream or upstream), the system is set-up with a single point of access with remote connectivity for online fault diagnostics and FactoryTalk ViewPoint for system data collection.
FactoryTalk ViewPoint is utilised for the local connectivity to link each machine, providing system control and performance data locally at each of the machines HMI's. FactoryTalk Analytics is utilized for the remote connectivity to transmit real time data remotely to a secure machine cloud. This provides real time machine and system data that can be viewed remotely from anywhere around the globe. Bradman Lake packaging machines incorporate the latest integrated connectivity Industry 4.0 technology to communicate seamlessly over a common network and protocol.
Companies in this article