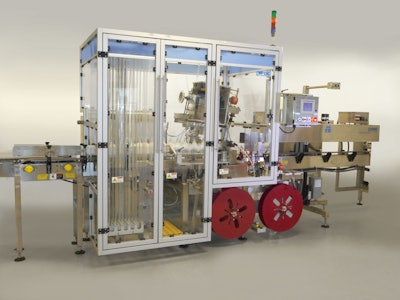 Most notably, a shrink material accumulator, integral to this system, allows roll changes at full production speed—up to 175 containers per minute (cpm). This distinctive new feature produces huge reductions in downtime every shift. When the current reel is spent, an end-of-reel sensor automatically clamps the tail at a splicing table, allowing the rapid splice of the new reel, while running at full speed.
Several variations of tamper-evident banding are applied with the 65 Series, including registered, printed graphics that create visual marketing opportunities around the cap of the package. When horizontally perforated at the base of the cap, the tamper-evident portion is removed when opened, while the neck label portion with graphics remains on the package throughout its life. Sleeves extending below the cap conceal variations in fill levels, which are inevitable in viscous liquid filling.
Machines operate at 50 to 175 cpm with maximum speeds dependent on package and sleeve dimensions. Sleeve diameter range is .375 to 3.0 in. (10 - 75 mm). Sleeve height range is .625 to 4 in. (15-100 mm). They are compatible with traditional and sustainable films, including PVC, PET, PETG, OPS and PLA films.
Standard features include full safety enclosure, heavy duty mechanical construction, Allen-Bradley PLC controls, and upstream photo-eyes. Systems also have motorized material unwind, and material-out sensors.
Companies in this article