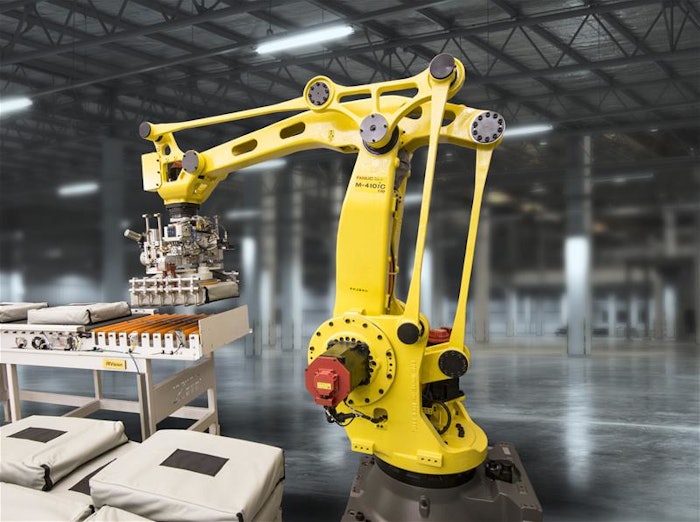 It features a 110 kg payload, four-axis articulation, a compact footprint, and a slim arm with through-arm cable routing to simplify dressout and minimize interference with tooling and other peripheral devices.
The M-410iC/110 is capable of performing 2040 standard palletizing cycles per hour with a 110 kg payload, making it the fastest palletizing robot in its class. It also features a compact footprint with a 646 mm interference radius, ideal for tight workspaces.
Benefits include:
Unit achieves palletizing speeds up to 2040 cycles/hr. at 110 kg payload (best-in-class throughput).
Through-arm cable routing minimizes interference with peripheral device allowing clean, worry-free dress-out solutions for palletizing.
The 110 kg payload is ideal for smaller palletizing operations.
Proven, reliable FANUC servo drives provide the highest uptime and productivity.
Able to operate in environments ranging from harsh to traditional factory floor.
Operates with the company's latest integrated intelligent functions such as iRVision, Collision Guard, Dual Check Safety, ROBOGUIDE/PalletPRO, and PalletTool software.
Companies in this article