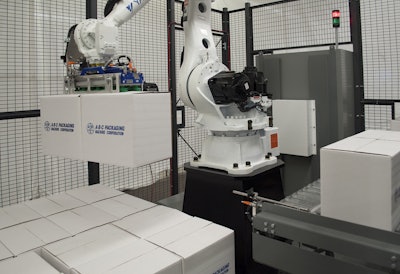 Packagers can achieve efficient and reliable pallet forming while utilizing less floor space, and ship secure, well-formed pallet loads that protect products throughout distribution. All systems are OEM-engineered and manufactured and supported by A-B-C's professional service technicians.
Standard systems include a high payload robot and appropriate product handling devices for single or dual infeed and pallet building, product transport and staging conveyors, high visibility guarding, Allen Bradley controls and programming for product requirements.
Additional pallet patterns are easily programmed by the end user and uploaded at the operator panel for seamless transition to new products or packs. The pallet programming software automatically sets the most efficient arm movement to maximize palletizing speed. A variety of end-of-arm tools are available to accommodate all product types.
Options include automation of empty pallet transfer and slipsheet/picture frame inserting. Robotic control or separate devices may be integrated depending on speed and space requirements. A variety of full pallet takeaway conveyor options are also offered.
Companies in this article