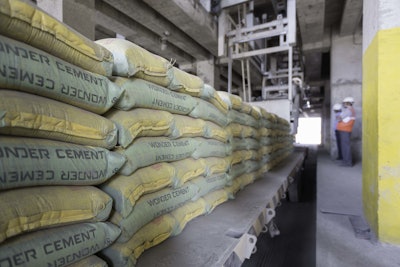 The bags are palletized automatically in stacked rows or patterns. The system is particularly efficient in emerging market nations, where the trans-shipment of bagged bulked goods is increasing and labor costs are climbing.
The BEUMER autopac simultaneously loads and palletizes bagged goods, such as cement or other materials, without needing pallets. Therefore, it is suitable for use in countries where no pallets are available, or where their use is uncommon. In rows or stacking patterns with a pre-selected number of layers, the BEUMER autopac works quickly and effectively.
Depending on the performance class, the system stacks between 2,400 and 3,000 50 kilogram bags/hr. The loading height, including the height of the truck bed, can be up to 3.5 m (for a platform height of 5 m). The user has flexibility in forming the layers, dependent on the bag dimensions and the proper width-to-height ratio. The BEUMER autopac can be used adaptively to handle bags of various materials.
Companies in this article