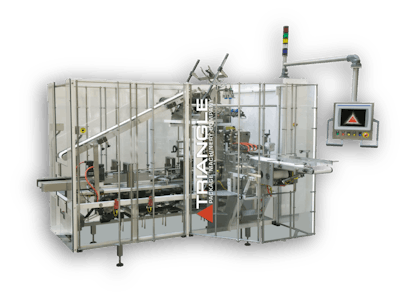 With changeover to full production in less than 15 minutes, packagers can easily run multiple products and carton sizes. In addition to quick changeover and a compact footprint, the Flex 1 provides several benefits over traditional horizontal cartoners, including:
Gentle product handling
Simple operation
Extended production runs with an optional extended carton magazine that holds up to 1000 carton blanks
Elimination of the barrel-loader assembly for reduced complexity, lower maintenance, and reduced product breakage
Rockwell Automation/Allen Bradley ControlLogix, AB Kinetics Servo Drives, and AB PowerFlex AC Drives.
The Flex1 features servo drives for precise motion control and eliminates the need to synchronize bagger and cartoner. Designed for bag in box applications such as cereal, powder, grains, and bakery products, the Flex 1 is also suitable for IQF products or trays (HMR kits).
Companies in this article
Videos from Triangle Package Machinery Company