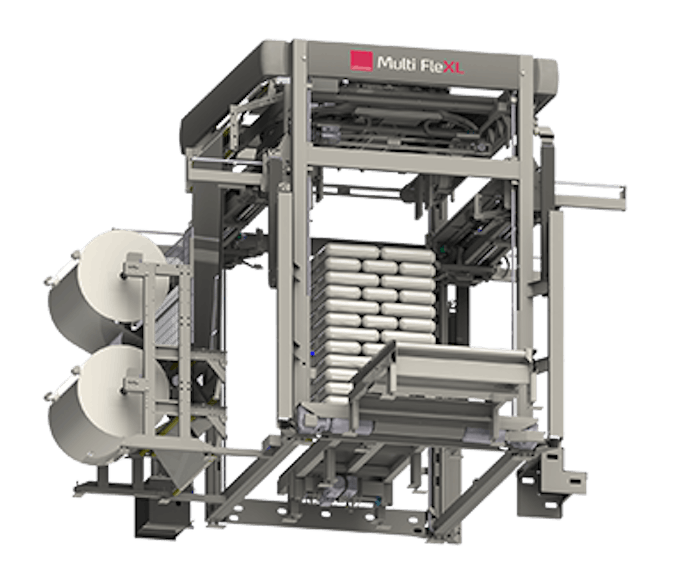 With larger loads, such as roofing panels, plasterboard sheeting, insulation batts, MDF or Gypusm boards, corrugated sheets and wooden boards, proper load containment can be a real challenge. Selecting the right type, size, and thickness of stretch hood film and how it's applied is critical to ensure the load will withstand the static and dynamic forces caused by handling, impacts, and vibrations during transit.
"Poor stabilization of large or wide loads has continued to be a pain point in the supply chain, during transit and in storage," says Mark Wolschlag, Lachenmeier. "There was definitely a need for horizontal and vertical holding forces to protect against load shifting, loose packaging, crushing, water damage or other types of contamination in these cases."
Lachenmeier's Multi FleXL stretch hood machine provides the necessary protection and force to stabilize even the most challenging loads. The machine wraps loads from500 x 500 mm and up to 3200 lengthx 1700 widthmm, with a maximum height of 3000 mm. It can be configured with up to four different film sizes and be set up to automatically switch between sizes to provide enhanced flexibility and a perfect fit for every load. Wrapping up to 150 loads an hour, depending on the size and height of the product, Multi FleXL further provides fast and accurate results.
"The Multi FleXL system is fitted with our patented film unwinding during stretch patent, which our customers have come to expect from Lachenmeier's other innovative solutions like the Power Flex T1 and the Multi FleX1," Wolschlag adds. "It also saves customers 10 percent in film consumption, is 100 percent waterproof, and eliminates the risk of contamination, which addresses and solves many concerns in today's supply chain."
Companies in this article