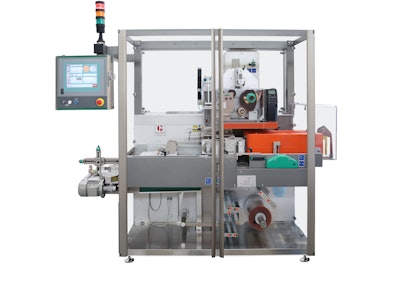 Marchesini's horizontal continuous-motion cartoning machine MA 352 and the MF 910 Mini wrapper/overwrapper together create a combi unit capable of meeting the needs for versatility and speed to package different types of products, such as blisters, syringes, vials, rigid and squeezable tubes.
The MA 352 combines carton magazine accessibility, quick size changeover times, minimal maintenance, plus the ability to manage high production speeds.
In production, a rotary drum picks up the carton from the magazine and opens and squares it by 150° by means of mechanical rotating arms. Some rods with suction cups at the ends transfer the opened carton from the drum into the toothed chain. The product delivered from the infeed chain is inserted into the carton, together with the instructional leaflet, by means of pushers positioned opposite the operator, which follow the continuous motion of the carton conveyor chain.

Once the carton is complete, it is sent to the MF 910 Mini wrapper/overwrapper. The panels of this unit can be completely opened to make it quick and straightforward to replace the reel underneath the machine. This type of arrangement offers allows work to be carried out more quickly, reducing machine shutdown time and boosting production rates.
The production flow is also more visible so that the operator can monitor the products while they are being wrapped and intervene promptly if necessary. This also offers greater safety and simplicity of movement, thanks to the possibility to lift the hood of the machine right
Companies in this article