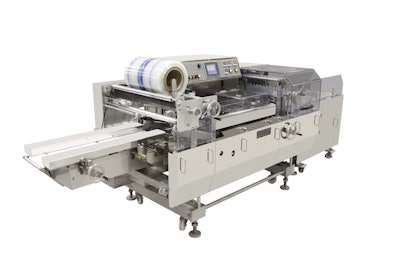 The 500im is said to reduce consumable costs by using 36-41% less film than standard overwrappers. Servo-driven technology reduces downtime and maintenance cost while speeding up changeover. This new machine features Ossid's gripper chain stretch technology – the same technology found on the company's top-of-the-line models 400E and 500E. The gripper chain provides consistent film stretch ensuring optimum package appearance in the retail case.
The new machine's easy-to-operate control panel can store up to 50 tray programs, making product changeover simple, and accommodating a wide range of operator skill levels. The 500im's welded center seal provides printing on both the top and bottom of packages. The machine's stainless steel open frame makes it easy for operators and maintenance personnel to access machine components.
The 500im is suited for both high- and low-profile products. The machine accommodates trays from 5.75 X 8 in. (146 X 203mm) up to 10 x 15 in. (254 x 381mm) and tray heights up to 5 ¼ in. (133mm).
Options include: a newly designed automatic indexer that turns the machine into a high-efficiency, one-operator production station; a Water Recirculation System that cools the machine with as little as one gallon of water/day, resulting in huge savings on water consumption; a trimmed center seal, which upgrades the center seal to trim the excess film away, providing more visibility of graphics on the bottom of the package.
Companies in this article