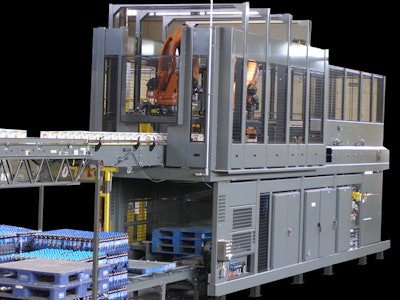 Suitable for reduced secondary packaging applications that require gentle handling, the Alvey 950 integrates robotic arms with a conventional high-speed palletizer to increase pattern flexibility and facilitate quick product changeover.

Its hoist-mounted stretch bander is designed for industries with small and lightweight packaging, and can reduce or eliminate the need for tie sheets and stretch wrapping to stabilize loads. The on-board stretch bander uses fewer consumables than traditional stretch wrapping, reducing both time and material requirements.

The integrated PLC control platform, now standard for all Alvey 950 series hybrid palletizers, eliminates the need for traditional proprietary robot controllers, streamlining complex control communication, reducing response time, and minimizing changeover delays. By maintaining a standard familiar control platform, the integrated PLC control system also reduces startup time, training, programming, hardware, and troubleshooting costs.
 
Companies in this article