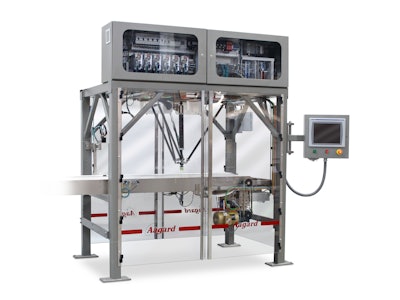 The robotic infeed module complements Aagard's All-in-One wrap around cartoning solution that combines end load and top load cartoning into one system capable of higher efficiency, greater output, smaller footprint, and more.
The infeed module is equipped with a Rockwell Automation midrange control system to create a modular, easy-to-integrate system that helps speed the overall system design process and make design, build, and start up more efficient.
Aagard's robotic infeed module measures 4-ft. wide, 8-ft. high and 7-ft. long. Its pick-and-place operation management gives it the capability to handle up to 120 pieces/min., depending on the product being packaged. The robotic module uses the Midrange Architecture system from Rockwell Automation, featuring the Allen-Bradley CompactLogix 5370 programmable automation controller, Kinetix 350 servo drive, Stratix 5700 managed switch and ArmorBlock I/O. The CompactLogix 5370 controller uses a single development environment for both standard and motion control, and provides seamless integration into a plantwide control system via an EtherNet/IP network.
Companies in this article