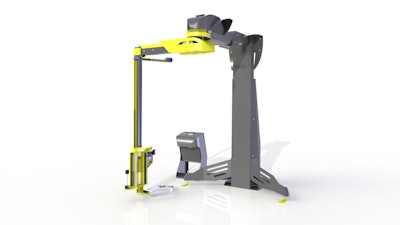 The rotating arm technology keeps pallet loads in place while stretch wrapping. The arm can be easily adjusted to achieve a wrapping diagonal of 78- or 87-in., offering versatility at no additional cost. The Cobra Plus comes standard with an independent floor stand, but can also be mounted to a column or wall.
A motorized power pre-stretch system with adjustable film tension control guarantees Cobra Plus users optimal film usage. Film tension control ensures superior load containment and helps eliminate film breaks and product damage. The Cobra Plus is also equipped with a touch-screen HMI for simple operation and versatility. The program includes controls that allow for adjustment to the number of wraps, wrap pattern, film tension, overlap, overwrap and speed. 

The Cobra Plus can wrap up to 35 pallets per hour. It can also pre-stretch film up to 260% and wrap pallets up to 116" high or an 86"diagonal. 


Companies in this article