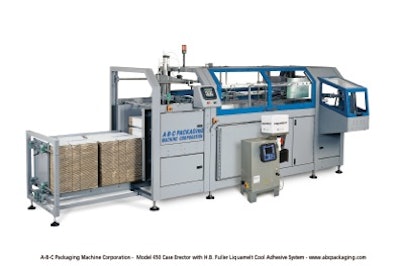 Designed for speeds up to 50 cpm and offering reliable mechanical operation and a servo-operated sealing ram, the Model 450 case erector helps packagers increase productivity while the new Liquamelt adhesive reduces their costs. Liquamelt is liquid at ambient temperatures, eliminating the need for heated premelt tanks and heated hoses, reducing packagers' energy costs up to 50%. The adhesive is pumped at room temperature from the reservoir to a TurboActivator positioned at the nozzle that heats the adhesive to the required sealing temperature. Liquamelt is applied as foam, which is said to reduce adhesive consumption up to 50% compared to other application systems. 
The ergonomic low-level easy-load KD magazine, simple walking-beam mechanical case transfer, and the servo-operated sealing ram models are operated by A–B-C's Intelligent Control that puts all production data on the production line at a touchscreen panel or remotely at the plant operation center.

The Liquamelt adhesive is "cool on delivery, hot on demand" to provide safety and easy cleanup. H.B. Fuller partnered with Graco to develop the delivery system including pump, reservoir, delivery hose and TurboActivator.
Companies in this article