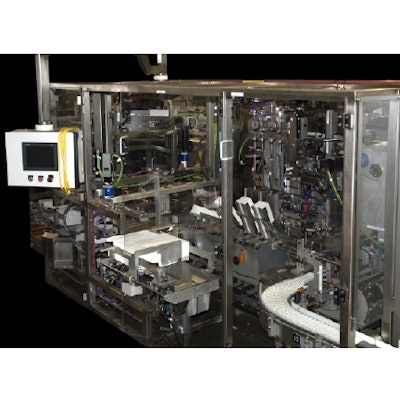 The Vertical Cartoner Model CV4 200C places blister packages into a brand new flip top style carton. The continuous motion cartoner is equipped with the new food grade Fanuc Robot Model M-3iA6A, Elau Generation III servo motion package, and vision system. Loads blister packages at a rate of 200 cartons/min.

Filled and sealed cartons will then be conveyed to Z Automation's Tray Packer, Model TP7.5 50I. Also equipped with Elau servo motors, Model TP7.5 50I is an intermittent motion machine that erects and loads trays with a specified number of cartons at rates up to 50 trays/min. Designed for flexibility, the Tray Packer can receive cartons short or long side leading and load cartons or other product, such as blister packages, vertically or horizontally.

In the third station of the integrated system, a ZAC Palletizer, featuring Fanuc Robot Model M-420iA, stacks the loaded trays. In addition to palletizing, the versatile Model M-420iA is useful for secondary and primary packing, including high -speed case packing and cartoner bucket loading.

Companies in this article