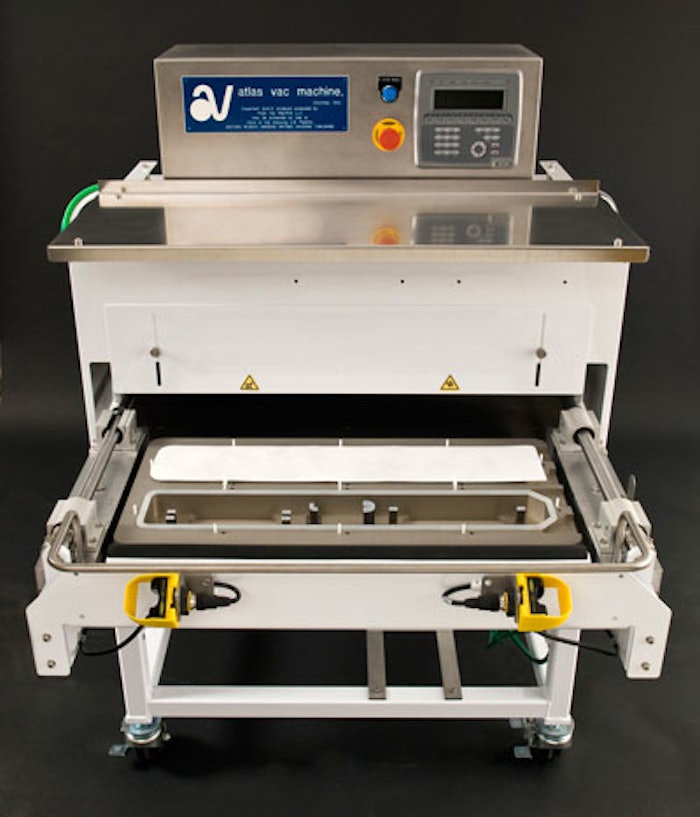 Unlike manual shuttles which are operator dependent on each cycle, or optional pneumatic auto shuttles which can be adjusted by operators, the electric shuttle is smooth with exact repeatability as controlled by the PLC program. This new standard feature makes
Atlas Vac
tray sealers ideal for medical device packaging, as well as pharmaceuticals and other high-end packaging, which requires validation of package sealing protocols to ensure package aesthetics and integrity.  
The new electric shuttle option fits within the same envelope as the previous pneumatic design so that the machine's footprint remains unchanged.  Pneumatic and manual shuttles are still available as options for companies wishing to match existing equipment configurations. Technologies such as patented force sensing and tool recognition RFID are also available.  
"Packaging engineers are excited about the move to electric shuttles," says Atlas Vac President John Abraham. "They appreciate the consistency, smoothness and repeatability but most of all they like the fact that the shuttle can never be placed out of adjustment by operators attempting to 'dial it in' as they do with pneumatic versions. Additionally, compressed air is an expensive utility not always in adequate supply."  
Unlike companies which adapt their general, commercial sealers to use within the medical market, Atlas Vac specializes within this industry. They start with heavy duty components like 1" diameter linear bearing rods, to produce the heaviest equipment on a per-square-inch of sealing platen area. They understand that structural integrity and rigidity are the keys to successful sealing. So their stationary components remain aligned while moving components glide smoothly for many years of product use.  
A heavy heater section and a Teflon® coated seal platen provide sufficient mass to distribute the thermal energy evenly – without hot spots or wide fluctuations in surface temperature – even in high package cycling.  
PLC controls are available from Mitsubishi or Allen Bradley, with validation protocols, recipes, passwords, operator screens, alarms, data acquisition and other tools of the trade available in standard or custom configurations.  CE certification is always available for machines designated for EU markets.
Companies in this article