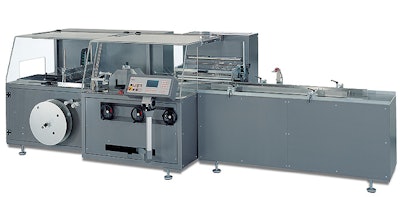 Due to the accuracy of digital servo motion control, new Servo Jet 400 continuous-motion side sealers from Kallfass Packaging Machinery (Alpharetta, GA) use up to 15% less packaging material, according to the company. The machinery was built from the ground up around servo technology supplied by Elau (Chicago, IL), and shown for the first time in the United States at Pack Expo International 2002 in November.
"We got together with Elau, using their Gen3 technology, as well as our technology that has been tried, true, and tested in the field," says Cece Loft, sales and marketing manager for Kallfass. "We put them into this machine and made it a completely servo-driven machine from the ground up. Our first unit went in at a customer facility in Georgia. They've had great success. Their reject rate before was probably 15 to 20 percent. And now, even in their initial setup, learning phase, they've probably got about a 2 percent reject rate."
Using Elau's PacDrive™ technology, the Kallfass machine is completely PC controlled. According to Loft, the accuracy of the servo technology results in a much more precise production rate than it would have with mechanical components.
"The servos allow for 1/16th of an inch accuracy," she says. "It's totally unheard of in the types of things we were doing. We're able to get less film on a package. We're able to have such tight control over the whole machine, that we're able to use less shrink film."
Loft estimates that the Servo Jet uses 50% fewer parts than similar machines from other manufacturers. Not only does this make the machine easier to maintain, but it also represents a decrease in manufacturing costs, which makes it comparable in price to competitors' mechanical versions, she says.
Another benefit is speed. The Servo Jet 400/150 can run up to 150 packs/min, while the Servo Jet 400/100 can pack 100/min. Loft says, "This is considerably faster than mechanical versions."
Real-time modem support is also available. With a modem, the packager can dial Kallfass, hook up the modem connection, and, in real time, have an experienced mechanic diagnose and fix the problem.
Another key advantage for the machinery builder is the support from Elau. According to Loft, Elau was simply an excellent fit with the machinery builder.
"They were able to give us the hardware and the software," she says. "It's a complete package from them. We have a really high level of confidence in their company. The one big thing they do is that they're involved in the parts service end of the business as well. They're really an all-around company."
"We don't have a supplier/customer relationship," she concludes. "We have a partnership relationship. That's more valuable than anything."
Companies in this article