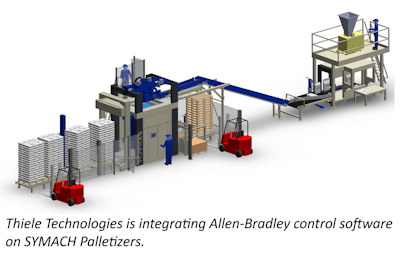 Thiele Technologies, part of Barry-Wehmiller and an industry leader in bag-filling and bag palletizing equipment, is pleased to announce that it soon will integrate Allen-Bradley control software on SYMACH Palletizers.
Thiele acquired Netherlands-based SYMACH in March of 2014. SYMACH Palletizers have proven to be a popular option for many existing U.S. customers, who commonly use Allen-Bradley
control software throughout their production lines. SYMACH's one-of-a-kind gantry-style palletizing technology gives customers an alternative to robotic or conventional palletizing by combining both into a unique machine that creates consistently square and uniform pallets. The Allen-Bradley controls are also standard in many of Thiele's bag-filling lines, which provide operators with the ability to use one control software/platform to manage an entire line.
"We installed a demo SYMACH Palletizer at our Minneapolis facility, and invited several new and repeat customers to see it perform in person. When asked what obstacles prevented an order, they shared that the control system/package is one of the major factors," says Pat Hilger, Product Manager for Bagging and Palletizing at Thiele. "Because customer trust is so important to what we do, we took the steps to overcome those obstacles to provide a superior product that meets the demands of our customers. We listened to what they needed and made those adjustments."
Thiele is proud to partner with long-time supplier Rockwell Automation during the innovation process and expects to release the final product to the market in the spring of 2018.
Thiele is one of a number of Barry-Wehmiller businesses represented in BW Packaging Solutions. Through their diverse capabilities, these companies can collectively provide everything from a single piece of equipment to fully integrated, tailor made packaging line solutions for a wide range of industries, including: food and beverage, personal care, container
manufacturing, pharmaceutical and medical devices, household products, paper products and textiles, industrial and automotive, and converting, printing, and publishing.
Companies in this article