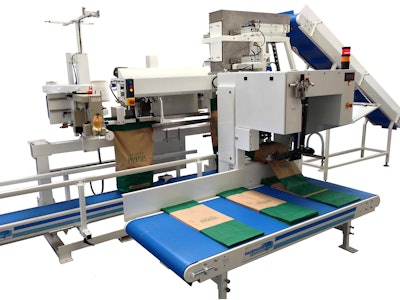 The multi award winning packing equipment manufacturer has designed the standalone Collator System to maximize the ability of working with existing sack placing and sealing equipment. Capable of collating and packing up to 80 pre-packs into outer sacks per minute, the system overcomes common problems typically seen with other systems, as explained by Paul Wilkinson, Pacepacker's Business Development Manager, explains: "We saw a gap in the market for a collator which would continuously support the pre-packed bulk goods as they were entering the outer sack. We found that many systems on the market did not control the fall of the product very well, which often results in pre-packs breaking through the bottom of the outer sack due to their weight and density. We have improved this part of the process by incorporating motorised support arms to control the descent of the pre-packed polybags into the outer sack, eliminating damage and waste to both product and pack."
Pre-packed polybags of goods, weighing between 1 and 5kgs typically produced on FFS equipment, enter the system via an inclined elevator and transported up to the holding doors of the Collator System. Once the desired amount of bags are recognised by the system's pre-programmed operating software, the conveyor pauses and the holding doors open for the bags to gently drop into an accumulation chamber and then into the outer sack waiting below. As the bags are released from the chamber to the sack, motorised arms control the descent accurately, smoothly and with minimal moving parts. The system can store multiple product recipes to accommodate numerous multi-pack product variations, either by weight or amount.
While the Collator System has the ability to work with most sack placing and sealing systems, it can also be integrated to work with Pacepacker's T Series sack placers and award winning Total Bag Control (TBC) system, which accurately seals sacks with ultimate control enabling enhanced pack quality.
Pacepacker's new Collator System offers an automated solution, reducing waste and labour costs, improving pack presentation and throughput speeds.