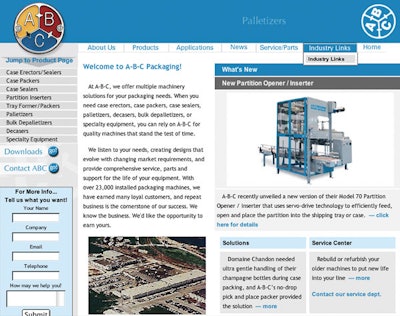 A-B-C Packaging Machine Corp.
This new site has enhanced navigation that provides one-click access to information and specs on the company's line of case erectors, packers, sealers, tray packers, palletizers, decasers, and bulk handing equipment. Each product category has a "Help Me Choose" section the compares features of the available models.
Advantech Corp.
Advantech has launched a new site for automation professionals in North America. Site offers product information and ability to purchase Advantech products directly from the manufacturer or from Advantech's nationwide partner network.
Contract Packaging Association
This redesigned Web site has moved to a new hosting company
to better serve association members and the packaging community as a whole. A more powerful search engine allows users to quickly find contract packagers according to company location, packaging processes and services, types of containers filled, and types of products handled.
Paperboard Packaging Alliance
This new Web site dedicated to providing up-to-date information to packaging decision makers is also a resource for marketers, package designers, retailers, and consumers. Visitors will find paperboard packaging case studies, university programs and competition information, paperboard grade definitions, and more.
Plasti-Fab, Inc.
This newly launched Web site is designed to meet the growing needs of prospects and existing clients within the custom plastic fabricating industry. Users can request custom quotes for all available products as well as provide information on the applications of its product line.
Rexam
This re-launched Web site brings together the company's former corporate and business Web sites in a single entity. Clear labeling and intuitive navigation meet the needs of both corporate and commercial users as well as investors, press, potential employees, and suppliers. The new site has two main information sections: corporate and business.
Companies in this article
Videos from Universal Labeling Systems, Inc.