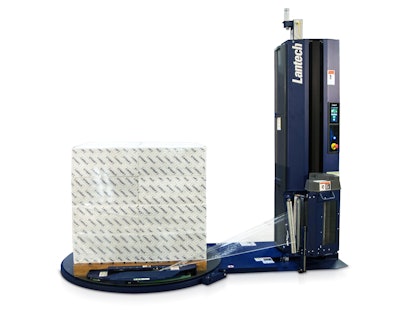 Debuting at PACK EXPO, Lantech's new QL-400XT stretch wrapper allows safe-to-ship wrap profiles to be built quickly and easily for virtually any load configuration. Calling it "intuitive, intelligent, and instructional," Lantech explained the semi-automatic machine features its Load Guardian® intelligent wrap control system that guides operators intuitively through the profile setup process with "smartphone-like simplicity" and improves productivity by allowing the operator to remain on the forklift. In fact, Lantech said, it can save two minutes of forklift-driver labor per load.
The latest edition to Lantech's LeanWrap® series, the QL-400XT includes the company's XT Cut and Clamp® feature, which automatically captures the stretch film and cuts it at the end of the wrap cycle. It also offers Lantech's Pallet Grip® that keeps loads from sliding off during shipment and its Power Roller Stretch Plus™ technology, which maximizes film delivery system performance.
The QL-400XT has a 5,000-lb weight capacity and features a 1-HP turntable drive motor. At its peak production speed, the stretch wrapper operates at up to 30 to 40 loads/hr, with a variable turntable speed of 12 RPM.
Companies in this article