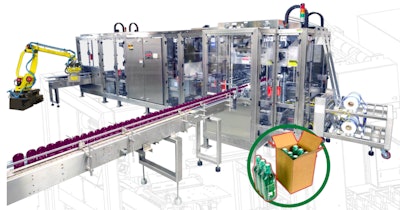 The fully integrated all-in-one system brings shrink-wrapping, case packing and palletizing to the table in one, cohesive system controlled by a single PLC. The high-speed Polypack shrink wrapper uses a patented robotic pick and place system that loads ovals and other unstable products onto the film for shrink wrapping. An integrated case packer loads the shrink-wrapped bundles into pre-erected RSCs. A robotic palletizer then picks up the RSCs and palletizes them into the desired pattern for shipping and distribution.
Polypack's new Dairy Series shrink wrap systems, first shown at PACK EXPO International 2016, automatically collates tapered cups, loads them onto pads, and shrink wraps them without the use of glue. By using pick and place technology to build the pack, Polypack completely eliminates the glue and all associated operations (no refilling, purging, or cleanup). The end result is a machine that is simpler to operate and maintain, and there are no glue or materials contracts required for this system.
Polypack's new Super Pharma shrink bundler combines high speeds with pack versatility in a compact footprint with no change parts. This new system achieves faster speeds than previous models by using an overhead fly bar indexing system. The flight bars use fully adjustable plates to accommodate various sizes and configurations of products. The film is sealed against a silicone belt, eliminating the need for a lower seal bar assembly.
Companies in this article