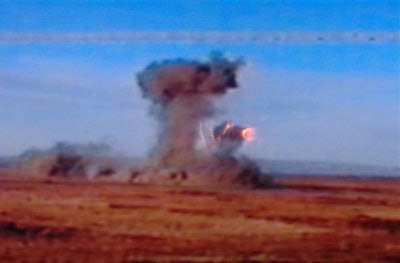 Several years ago, John S. Ashford, corporate maintenance manager at the Boise, ID, plant of R.C. Bigelow, Inc., purchased a machine to orient loose overwrapped tea bags for automatic packaging. But even after a number of redesigns, John and his team could not bring the troublesome machine online.

Now, when I think of R.C. Bigelow, I picture sophisticated ladies sitting in the parlor having tea and scones. Surely, John would come up with a suitably elegant and delicate solution for his uncooperative piece of packaging equipment.

Judge for yourself. John and some friends transported the machine to the Idaho desert and "commenced with shooting the machine with machine guns." A careful planner, John had strapped a load of dynamite to the machine beforehand. After the last bullet was fired, they "exploded the machine into a million pieces."

Problem solved!

In order to outline his corrective actions, John made a video of the proceedings, which he afterward presented to the R.C. Bigelow Senior Management Team. He introduced the video by saying, "Ladies and gentlemen, I believe we have a solution to the problem."

Being a Midwesterner with no machine gun or dynamite experience, I found John's solution rather … innovative. I asked him what kind of response he got to his video from the management team. He replied simply, "I still work here."

While we do not recommend this approach for the general public, John is trained and experienced in the handling of weapons and explosives. If you have a machine you'd like to blow to smithereens (and who doesn't?), you might want to send it his way.

Employing 300 + at three separate locations across the U.S., 100% family-owned Fairfield, CT-based Bigelow Tea is America's leading specialty tea company. The Bigelow Tea line includes more than 80 varieties, including America's number one specialty tea flavor, Constant Comment®.

John S. Ashford has been with Bigelow for more than 25 years and currently oversees all aspects of packaging machinery in the firm's three manufacturing facilities.

Brad Shorr is a writer, blogger, and online marketing specialist with an extensive background in the packaging industry. He works with B2B firms to strengthen their Web presence and tap into the power of business blogs and social media. He also welcomes hearing of your own packaging misadventures for future columns. Learn more at the Word Sell, Inc. Web site.