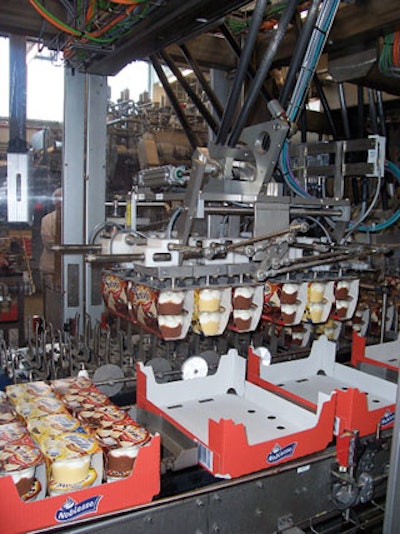 A good recent example is an installation that took place at the Guetersloh, Germany, plant of Campina GmbH, a dairy company based in Zaltbommel, the Netherlands.
Retailers had almost always merchandised single-serve dessert cups, enormously popular throughout Germany, as individual units. But the marketing department at Campina decided to test two- and four-count multipacks in colorful paperboard sleeves to see how consumers would respond.
The response was so enthusiastic, it quickly became clear that the plant soon would be unable to meet demand by relying on an off-line multipacking machine.
The solution to Campina's dilemma came in the shape of a machine from Oystar A+F called the Setline. It uses a series of servo-driven overhead robotic devices to pick cups from the filling/sealing machine, place them in paperboard sleeves that it erects from flat blanks, fold and glue the sleeves shut, and place the finished four-count sleeves in corrugated trays ready for palletizing. And it does this at 400 cups/min.
Since its installation a year ago, the Setline has been used exclusively for the private-label brands that Germany's large retailers market. They have found the multipack concept to be very much to their liking.
Companies in this article