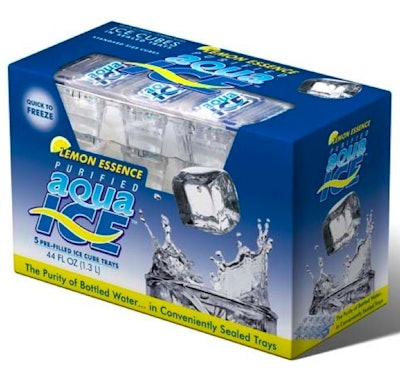 More than a year after its limited introduction, the primary and secondary packaging of aquaICE™ has been reinvented for 2007. In working with Artemis Creative (www.artemiscreative.com), aquaICE, Dublin, OH, has made the following packaging changes for its January relaunch:
The box was changed from corrugated to paperboard and a die-cut window was added

The box and tray sealing film were upgraded with new graphics

The 10-count tray's individual cell size increased from a .65 oz to .95 oz cube size

Box count was changed from 10 trays to five to reduce the price point from $9.99 to $4.99
In its unique category, clarity in communicating what aquaICE is all about is crucial. That's the message management at aquaICE heard when they took a fresh look at their premium ice cubes in the shelf-stable form of purified water prefilled in trays and boxed for sale. At home, consumers freeze the trays as needed and use the cubes directly in beverages.
Coinciding with the package improvements, two new flavors have been introduced, lemon (shown) and lime essence, added to the original unflavored version.
"What we have accomplished in recent months has been an extraordinary effort in developing a more retail-friendly package design," says Michael Schall, aquaICE president and chief executive officer. "Artemis Creative has an astonishingly creative group of people that understand the consumer market, and aquaICE's features and benefits. Building around a package design that communicates what we believe, what the product is, what it does, and how it works, all accomplished in a fraction of a second for the consumer, is a major improvement over what we had before."
AquaICE has been in limited distribution in Ohio and Canada in the original packaging since mid-2005.
Communication window
AquaICE's most pronounced change is a window added to the box. "We can instantly communicate to consumers that what this product is, what it does, and how it works, and that it's a disposable tray," says Schall. The die-cut window wraps from the top of the box to the front to add a dimensional aspect to the cube trays, he adds.
Supplied by Pratt Industries (www.prattindustries.com), the paperboard box represents a change from corrugated "to be more consumer-friendly and mimic what the soft drink industry has done," says Schall. "Another benefit of SBS paperboard is that we can achieve higher-resolution graphics."
AquaICE founder and president Peter Moenickheim says the box's new auto-erect format permits it to be quickly erected, easily filled, and conveniently opened by consumers.
The polyvinyl chloride trays are provided by Clear Pack Co. (Phone: 847-957-6282) and sealed using polyester film from Clear Lam Packaging, Inc. (www.clearlam.com).
The graphics on the tray-sealing film were changed to note flavor as well as the new .95 oz cube size, 50% larger than before. Moenickheim says the cube size change resulted from consumer feedback that they were expecting a bigger cube.


Companies in this article