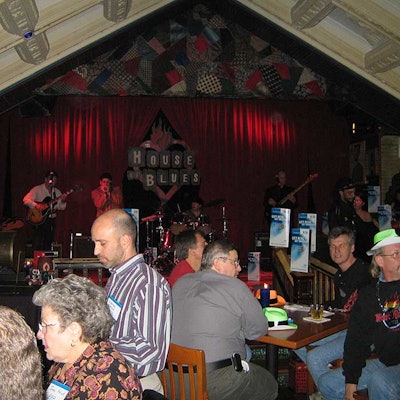 PACK EXPO is a little like Thanksgiving dinner – all that preparation, all kinds of tasty stuff -- and then it seems to be over in the blink of an eye. And yes, you're ready for a nap afterward.
Now that the last exhibitors' crates have been shipped back and the show is a memory, what were the significant take-aways from the perspective of machinery innovation?
The awesome potential of robots
Delta robots are fascinating to watch, conjuring up images of spiders and War of the Worlds. Even more awesome was the display of speed and tool path guidance demonstrated by a delta robot at the front of ELAU's exhibit.
There were deltas on display controlled by PLCs or motion controllers, but this delta, powered by a PacDrive™ automation controller running the company's popular
robotic software library
, was the hands-down winner. It evoked a need among showgoers to stop in the aisle, watch the beam of light track complex motions on a rotating carousel, and then snap a photo.
Fallas Automation
had seen the potential of this robotic control technology months earlier when it determined to launch its PacDrive-equipped Adabot™ robotic case packing system at PACK EXPO.
The beauty of Adabot (as in add a 'bot) is the concept of plug-and-play robotic cells. Up to 4, in fact, can run off the original robot's PacDrive controller. If you need to increase throughput, you simply add a 'bot, or two or three. Imagine that any comparable concept would likely require 4 separate proprietary robot controllers and at least one PLC and motion controller for the line, but more likely one each per module. So in this case, a single PacDrive automation controller replaces from 6 to 12 conventional controllers.
Modularity gains major momentum
You couldn't miss the theme at ELAU's booth – GET REAL. GET MODULAR. DISCOVER THE POWER OF MODULAR THINKING.
You read it, saw it on video, heard it from customers, and you saw modularity at work throughout the booth – as well as at 40 customer exhibits highlighted on the official show floor planner.
Why is modularity the next big trend? Fallas' Adabot was an excellent example. And at PACK EXPO the packaging world would also get its first glimpse of the new standard for hardware modularity, PacDrive iSH Series Intelligent Servo Modules.
A world first: The intelligent servo module
Although headquartered in Germany, ELAU selected North America's packaging trade show to launch its next revolution in packaging automation – the PacDrive iSH Series. And the company invited a leading U.S. machine builder,
Goodman Packaging Equipment
, to be its lead customer. In turn, Goodman received tremendous booth traffic for the PacDrive iSH equipped 3-in-1 Case/Tray Packer.
What's the big deal? In a pre-show review, ARC analyst Sal Spada wrote, "Over 10 years ago, the first primitive integrated drive and motor products appeared on the market from several suppliers where these early versions simply attached the drive onto the motor frame. Ugly, poor form factor and quite frankly a value proposition that was difficult to identify.
Elau's isH Series has thankfully taken us light years beyond this and is showing the motion control market how to design product. They have taken the systems view to the integrated drive and motor solutions which effectively leverages all the benefits of bringing the components together.
"The design is innovative and deserves a closer look by packaging machine designers simply to appreciate the way they leveraged the latest silicon devices, addressed power distribution, and considered aftermarket maintenance and support."
For a brochure on the new PacDrive Intelligent Servo Module,
click here
.
ARC says 'Goodman's modular case packer leverages innovation in servo systems'
Also in ARC's PACK EXPO report, "Goodman Packaging Equipment announced 'Three-in-One' Case and Tray Former/Packer/Sealer which integrates three packaging modules within a unified frame to provide smooth, synchronized packaging in minimal floor space. A critical component of the 'Three-in-One' is the machine designers' decision to leverage integrated servo drive and motor modules," referring to the world's first machine running the PacDrive™ iSH Series.
"Integrated servo drives and motors simplified the mounting, reduced component count and cabling, and reduced electrical cabinet size and footprint compared to conventional servo motors and drives. A central, shared power supply feeds the remotely located distribution modules instead of a cabinet filled with servo drives and cable connections. Each servo module receives all power and communications from its own hybrid cable coming from a nearby distribution module. There are no separate encoder cables, and each module is fully synchronized through a digital motion bus running in the single cable.
A big party -- with a purpose
Counting a number of highly respected packaging machine builders as new customers, with a wave of support building among end users seeking to overcome limiting single vendor
control specifications
, and with game-changing new technology, ELAU had good reason to celebrate this year's PACK EXPO.
So they did, along with about a thousand of their closest friends at the House of Blues® Chicago on Monday evening. This invitation-only event drew the Who's Who of packaging for a night of Chicago blues, great food, prizes and surprises.
The message was simple – as promised, there we no sales pitches, only gratitude for the support of the packagers, machine builders and industry visionaries who believed in the company and its business model of specialization in packaging before it had achieved this level of recognition and success in the North American market.
About ELAU
ELAU equips over $1 billion worth of the world's best machines annually, with over 30,000 PacDrive systems already deployed in packaging machinery worldwide. PacDrive is the first truly integrated automation architecture, capable of performing the functions of PLC, motion control, robotics, temperature control, PLS, MES data interface and more in a single, standards-based software environment.
For more information, visit
www.elau.com
or email
[email protected]
.
Companies in this article