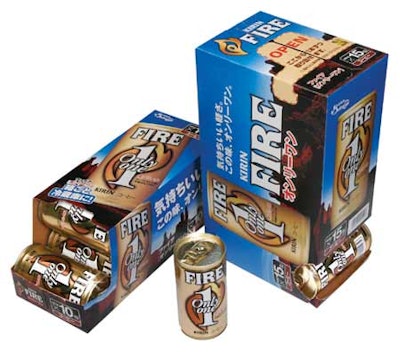 The coffees have a one-year shelf life. For multipacking the canned coffee, Kirin is using two distinctive carton types supplied by Rengo Riverwood Packaging, a joint venture with Graphic Packaging International, Inc. (www.graphicpkg.com).
One carton type marketed at retail is a "Fridge Vendor" take-home package that holds 10 190-mL cans in a 2x5 configuration. This pack measures approximately 41⁄8"x 41⁄5" x101⁄2". The shelf dispenser "Tower Pack" carton contains 15 190-mL cans in a 3x5 configuration for individual can sales at the retail location. The Tower pack carton measures approximately 41⁄8x61⁄3"x101⁄2". Both cartons are designed to maximize use of precious refrigerator storage space and provide user-friendly dispensing of cans.
The cartons are constructed of 18-pt Aqua Kote® paperboard and are offset-printed in six colors. GPI's Aqua Kote is a high wet-strength sheet made of SUS virgin kraft fiber, recycled pre- and post-consumer fiber, and three layers of exterior coating.
—Judy Rice
Companies in this article
Videos from Graphic Packaging Intl.