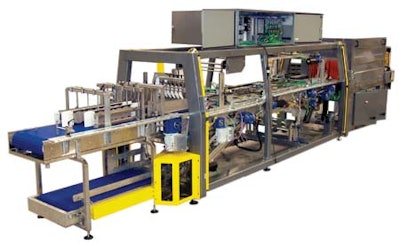 Sentry Equipment (www.sentryequipment.com) best known for palletizing and conveying solutions in the beverage and canned food sectors put reconfigurability high on its list of machine attributes when it brought out its latest line of overwrapping machinery. Machines in the new line move nimbly from packing in trays to trays and film to pads and film to film only—all on a single chassis.
Across the product family OMAC Packaging Guidelines are followed as fully as possible. These guidelines are aimed at bringing standardization and consistency to how packaging machinery communicates four things:
• machine states—running stopped waiting transitioning
• machine modes—automatic semi-automatic manual
• commands—prepare stop start hold abort
• data—current machine speeds number of defects fault codes
"Our intent was to make the machine completely OMAC from the beginning" says Sentry director of packer engineering Steven Prance. He believes this line of equipment is among the very first to come standard with PackML across the product family. PackML—"packaging machine language"—is an agreed-upon vocabulary specific to packaging machinery. With PackML in place these machines says Prance conform with best-practice methods of reporting efficiency and are ideally suited for capturing Overall Equipment Efficiency (OEE) an increasingly popular and valuable manufacturing metric these days.
"The goal is to be extremely repeatable to minimize the time required to climb out of changeover and up to operating efficiency" says Prance. "The performance will also be inherently measurable through the OMAC guidelines."
These Sentry machines are tool-less quick-changeover models. No change parts are required—with the exception of one part to convert a tray machine to film-only operation. Package configurations include single or double lanes for tray and pad packing and up to three lanes for film-only bundles.
"The days of dedicated line speeds and products are fading" says Prance. "Our machines have to be able to handle multiple configurations and products being run on the same line without compromising throughput."
To meet this reality head on says Prance Sentry designed their new machines around controls components supplied by automation technology supplier Elau (www.elau.com). Sentry is using Elau's 1.2 GB Pentium M-based C-Series PacDrive controllers. Elau's servo drives and motors are also used. Prance cites Elau's applications experience software library development and integrated architecture as instrumental in achieving Sentry's objectives as it planned designed and built the new line of packaging machines. He also says he likes the fact that the operator interfaces all have a common look and feel across all machines in the family.
"The machines will look and run the same whether they do 30 containers per minute or 100 containers per minute" says Prance. "And while a printed operator's manual still comes with every machine we think the hyperlinked manual loaded directly into the HMI will actually get more use."
Companies in this article