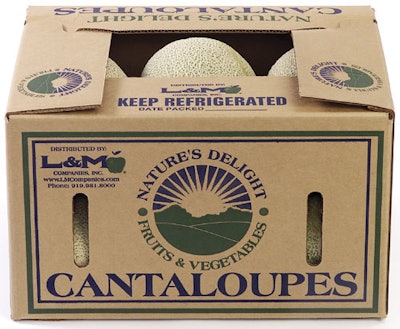 Historically, the two have always had to be separated by retailers, waxed corrugated for disposal and OCC for recycling.
The new material is called Greenshield™ from Georgia-Pacific. First tested with ice-packed poultry, Greenshield is now being marketed to produce companies, in addition to the poultry and seafood markets.
"We worked with OCC recyclers, and we've worked with the U.S. Food and Drug Administration as well," says Steve Arendsen, director of product marketing at G-P. "We had to meet an FDA protocol, and our material has passed the FDA tests." Although its process is not patented, Arendsen says the coating G-P uses is proprietary.
Like wax-treated corrugated containers, Greenshield is designed for applications where water-resistance or moisture barrier is needed. G-P now has enough experience with it to be more aggressive in promoting it. Of course, Greenshield isn't the first material to come along trying to unseat waxed corrugated in high-moisture applications. However, achieving the FDA protocol is a strong step that lends credibility.
G-P put me in touch with Vic Medlin, a packaging and purchasing specialist for L&M Co., Raleigh, NC, a company that extensively tested Greenshield this year, shipping cantaloupe grown in Central America to retailers here in the United States.
"We ship the box blanks to Central America," Medlin says. There, boxes are manually erected and packed as the melons are being harvested. After the individual boxes are palletized, the loads receive protective bracing like strapping, corner posts, and even stretch wrapping.
Eventually, they're shipped back to the United States in open vessels, as opposed to being held inside seagoing freight containers. "There is a lot of movement in open holds, and we were very pleased with their condition upon arrival," Medlin says. The pallets go into L&M coolers at the port before they're loaded into trucks for delivery to retailers across the country, says Medlin. For the most part, the boxes are held in the cooler for just two to three days.
For L&M, Greenshield is a competitive advantage. Relating that customers were "ecstatic" with the results of the test with cantaloupe, Medlin says that most customers didn't really want to discuss the impact of the change on their costs.
Although L&M sees the new boxes as providing potentially broader distribution for its products, retailers gain most of the advantages. "Because these boxes are recyclable with OCC, retailers obtain a revenue stream, instead of having to pay a company to dispose of them, as they would with waxed containers," he points out.
There is also a small advantage to the farms where the melons are packed. Because of the stiffness of waxed corrugated, the Greenshield boxes are easier and faster to erect. "Any time you get away from waxed boxes, the set-up becomes easier," Medlin says.
In fact, the only drawback is Greenshield is supplied in kraft color; previously L&M's cantaloupe boxes were finished in mottled white. G-P prints the blanks in two colors, via flexo. However, there weren't any complaints about the change from customers, "only from my marketing people," Medlin quips. He concedes there might have been a slight upcharge for the new boxes. Then he dons his purchasing hat and declines to specify L&M's plans for next year.
G-P says it has plants on each coast to apply the coating. It can vary its weight or apply it both inside and outside, depending on the application. If the economics remain right, this technology could grow.
See an archive of Arnie Orloski's Pipeline columns at www.packworld.com/pipeline.
Arnie can be reached at orloski@packworld.com