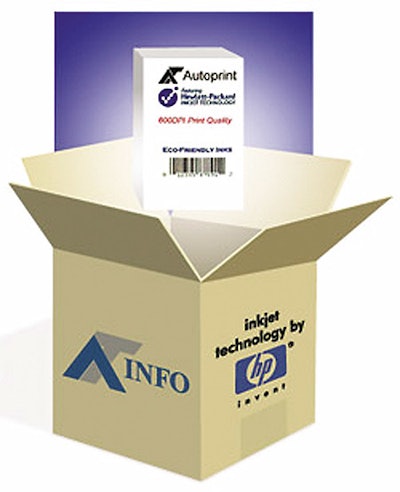 AT Information Products is an early pioneer in inkjet bar coding and sees HP thermal inkjet technology as the answer on today's packaging line. "We have a lot of history in coding technologies" says Joe Traut AT Information Products president. "From this experience we know the shortcomings of other methods and we see thermal inkjet technology as the new core solution for printing identifiers on boxes and cartons."
Traut sees these as key reasons why thermal inkjet is the solution:
• High quality: Thermal inkjet technology offers resolution of up to 600 dots per inch. The high-definition capability produces clear text crisp bar codes and graphic images such as logos. The quick change cartridges make it possible to add spot colors.
• Cost-effective: No maintenance budget for rebuilding print heads and no downtime to change expensive labeling supplies. Print cartridges are economical and get replaced at regular intervals such as when bulk ink supplies are changed.
• Easy to use: No special training is required to use operate or maintain thermal inkjet printers. Today's line operations prefer no-tool changes and the "snap-in snap-out" installation of the cartridges meets that requirement. HP water-based inks are safe and eliminate special clean-up routines.
• Fast: Depending on print resolution thermal inkjet systems can run at speeds of up to 480 feet per minute meeting the needs of all box and cartoning lines.
• Reliable: Thermal inkjet is less sensitive to clogging avoiding print quality problems and delays. Tested ink delivery systems reduce clogging.
• Flexible: WYSIWYG software systems such as the AUTOPRINT® Message Maker can make it easy to compose and edit different types of package identifiers—human readable or bar codes. Software can be linked to plant information systems and codes can be automatically updated as run information is changed.
• Small footprint: Today's packaging lines are compact and components such as coders often have to fit into small tight spaces. Thermal inkjet allows flexible modular cartridges to be integrated into those tight spaces.
See the story that goes with this sidebar: Versatile high-definition inkjet coder from ATInfo wins for Faribault Foods
Companies in this article