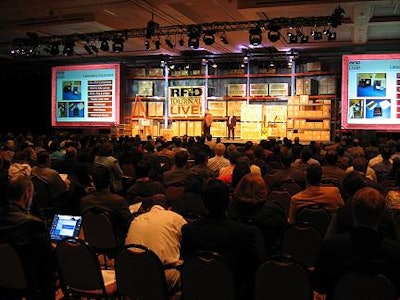 Kimberly-Clark's Mike O'Shea and Wal-Mart's Simon Langford shared the stage (below) in a high-profile presentation at the RFID Journal Live! conference held in April.
O'Shea, K-C's director, corporate Auto-ID/RFID strategies and technology, provided additional details on on K-C's 'dirty' RFID lab that we covered last month. The 5ꯠ-sq-ft RFID test center is located adjacent to K-C's production lines in order to simulate the real-world conditions. O'Shea says the "dirty" comes from the visible and invisible spectrums, such as dust for the former, and 40 wireless terminals nearby that add radio-frequency clutter for the latter.
"While we can't replicate everything in the [real] world, unintentional destruction is a good thing," said O'Shea, "because then we can understand in the lab why it failed."
He said that products in their baby wipes lines are especially challenging for RFID due to their heavy moisture content. Another source of trouble is the electrostatic static discharge (ESD) from plastic bagging common to products including K-C's diapers.
In assessing tags and tag placement, O'Shea acknowledged that they are looking at driving tag placement upstream to corrugated box suppliers.
RFID-friendly loads
They've also identified "RFID-friendly" stack patterns for palletizing that prevent collision (interference) from adjacent tags.
O'Shea says the rigors of shock and vibration are a challenge—and that's just in K-C's own internal distribution.
Oceanic shipping presents another set of problems such as when stacks rub against each other over many hours, which presumably poses ESD or physical abrasion situations.
"Standardized test procedures are important," he emphasized. "Valid test results are crucial no matter who does the testing."
He says that in one instance, for Kleenex-brand tissues, six different orientations were evaluated before the company found one that worked well.
Best of breed
O'Shea also promotes a best of breed approach to hardware selection. "We find best of breed and then roll out with it," he says. According to O'Shea, they have deployed RFID hardware into four facilities in the United States and will also deploy RFID in Asia.
One of the most interesting bits of intelligence shared during the presentation was that succesful read rates of RFID tags increases 50% when an RFID antenna is mounted on a stretch wrapper. It makes sense since, as the load rotates more than 360 degrees, many cases are turned toward the antenna's location several times rapidly in a short time. This seems a great way to take advantage of an existing manipulation of palletized loads while increasing read rates.
Wal-Mart's latest take on RFID
K-C works in conjunction with trading partners that include Wal-Mart. O'Shea shared the stage at the conference with Simon Langford, Wal-Mart's manager of global RFID strategy, who provided an update on the mass merchandiser's perspective.
"RFID will touch everyone, customers, packaging suppliers—everyone," said Langford.
"RFID drives efficiencies, RFID drives execution."
He said one of the key revelations that was uncovered during the retailer's ongoing RFID deployment is that on Saturday afternoons, the company's busiest shopping period, only one of 12 out-of-stock products is successfully replenished. He cited an example of inefficiency where extra cases that were transported from the backroom didn't physically fit on the shelf and were returned to the backroom. They also found 30 cases at one store that never made it on-shelf.
Extrapolated system-wide, "those lost sales are huge," Langford said. "Today we rely on associates. Someday, with RFID, will know that they actually have done that. RFID will help backroom visibility, too.
"RFID is a journey, and we are just at the beginning."