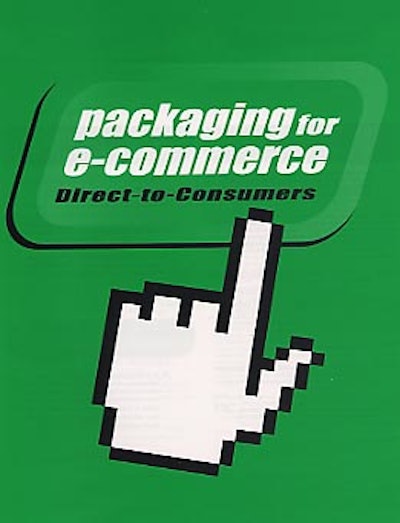 Quick, name a conference that could attract paying attendees from such diverse, high-profile companies as Intel, Wal-Mart, Coca-Cola, Hewlett-Packard, DuPont, Mitsui, Pactiv, United Parcel Service, J.P. Morgan Securities, Mail Boxes Etc., Nestlé and ConAgra?
If your "final answer" is Packaging for e-commerce direct-to-consumers, you are correct. The June 8 and 9 conference was held in San Francisco and hosted by Michigan State University's School of Packaging. Chairing the event was Joe Kornick, principal at KornickLindsay (Chicago, IL), a packaging design and development firm. Packaging World sponsored the program and will report on it in an upcoming issue.
For packagers, e-commerce creates a new sales avenue. Driving down that avenue challenges packagers to pack and deliver individual parcels direct to consumers, as opposed to building pallet loads for shipment through traditional retail distribution channels.
E-commerce presents opportunities for suppliers, both on the material and machinery side. Vendors (and converters) of corrugated boxes, dunnage materials, shrink film, tape and labels must see the sales opportunities. Equipment sales would appear to be strong for makers of shrink wrappers/tunnels, L-bar sealers, case erectors, case tapers, coders and labelers.
It's not surprising that conference attendees came yearning for knowledge regarding packaging's role in e-commerce. After all, ordering products over the Internet is still in its early stages, particularly in the business-to-consumer (B2C) sector addressed in San Francisco.
From this editor's perspective, much of the media's attention has been directed at business-to-business (B2B) operations. One possible reason for that may be that B2C involves logistics and distribution functions that don't necessarily evoke the same "hi-tech" appeal as do cyberspace business transactions.
The conference provided this editor an opportunity to "moderate" the first of the conference's three sessions. It focused on the Impact of e-commerce on packaging structures, material and functionality. Initially, a wave of skepticism hit me since only one of the presenters from this session represented a packager--the primary readers of PW, and visitors to packworld.com.
However, speakers from Pactiv, Sealed Air and PaperExchange.com provided some insight into their respective e-commerce perspectives. They also discussed the products their companies produce that packagers can use to meet Internet orders.
Following the individual presentations, all of the speakers from this section took a seat at the front of the room at the Renaissance Stanford Court Hotel in the city by the bay. At this panel discussion, speakers responded to audience questions. As is often the case, attendees initially were reluctant to voice questions. But as the audience warmed up, so did the interchange with the panelists.
Following a lively panel discussion, keynote speaker Alex Zelikovsky impressed the audience with an overview of Reflect.com's business. As that company's chief logistics officer, he made some salient points concerning differences between "e-tailing" (the company sells women's beauty products exclusively on its reflect.com Web site) and traditional retailing.
He spoke about unique packaging for each consumer, using packaging as a point of differentiation. He pushed for differentiation in package and product as a means to woo consumers. No question the speaker is knowledgeable regarding the Internet and logistics issues, but it's unfortunate he could share so few insights into Reflect.com's packaging and logistics efforts. And references about how the company strives to "delight" its consumers were overused.
Thanks to all attendees who contributed, and to opening-session speakers Thomas Lowery from Ethan Allen, Pactiv's Ken Hinett, Bill Armstrong and Scott Douglas of Sealed Air, and Mark Crowson of PaperExchange.com. Finally, a special thank you to both Diane Rooney, Rooney Consulting Services, and Joe Kornick, for making this first-time moderator's duties run smoothly.
The e-commerce topic was so successful that MSU has already planned another conference, with the same name: Packaging for e-commerce direct to consumers. It will run from 8 a.m. to 4 p.m. on both September 26 and 27 in East Lansing, MI. It will feature four sessions rather than the three held in San Francisco. Among the new presenters scheduled for the upcoming conference are Thomas Long of QVC, Ed Church of ISTA, DuPont's Sandra Van Warner and Jorge Marcondes of San Jose St. University.
The two-day program fee is $995 (deduct $100 if received before Sept. 2). For more information, contact Dr. Robert LaMoreaux, 517/355-3603, or e-mail him at [email protected]. For conference registration, call Mary Anne Merrill at MSU, 517/355-9580. A block of rooms has been reserved at the Kellogg Center Hotel and Conference Center on the MSU campus. Call 800/875-5090 for reservations.
Companies in this article