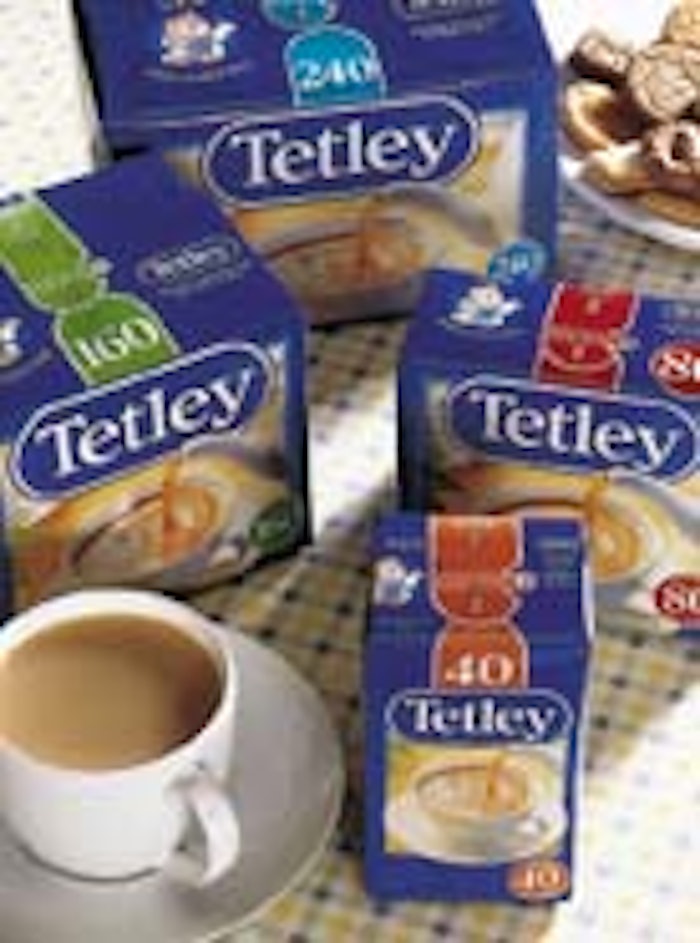 Last October, the Tetley Soft Pack won a packaging design award for consumer marketing from the Institute of Grocery Distribution, a leading European grocery trade association.
Tetley says the cost of the new package is about the same as the carton plus overwrap. The firm also claims that the new package reduces solid waste by 40%.
Project manager Andy Pepper describes the packaging material as a two-layer adhesive lamination of polypropylene and paper with an extrusion coating of polyethylene for heat-seal purposes. He doesn't identify the supplier, but he does confirm that the European parent company of UVA Packaging (Richmond, VA) designed and built the machines that make the Soft Pack bags.
Tetley marketers are excited about the package because it's such a fresh new look, structurally and graphically, in a category that's badly in need of modernizing. The company also believes the flat-bottom bag delivers advantages compared to a carton for both retailers and consumers. Retailers, says Tetley, like the reduced linear facing and smaller unit cube. Consumers also appreciate the compact package size as well as the fact that it keeps the product fresher, is resealable and is dust-free.
The reclosure feature on the package is a strip of tape running up the back and over the top flap. Consumers are instructed to pull a perforated strip across the top of the tape to open the package. Once they've opened the heat seal at the top of the package, consumers can remove tea bags at will. Reclosing is just a matter of folding the flexible material and pressing down on the tape strip.
Currently, the new package is available in England and Ireland, says Pepper.
Companies in this article