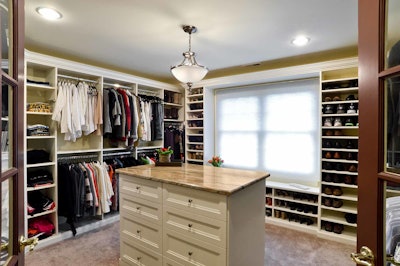 Chicago-based manufacturer Closet Works, a subsidiary of The Container Store, has been setting the standard for premium custom-made closets and organization systems since 1987. Like most successful businesses, Closet Works is always looking for ways to improve its processes—especially when it comes to ensuring the quality of its products.
---
---
Closet Works ships its cabinets and closet components in corrugated boxes from its facility to locations both domestically and globally. In 2020 and 2021, a perfect storm of increased freight volumes and a lack of equipment and personnel resources resulted in an increase in freight-related product damage. Closet Works was particularly vulnerable as its cabinet and closet components ship on larger-than-average pallets: 4 x 8 ft versus the standard 48 x 40-in. (4 x 3.33-ft) size.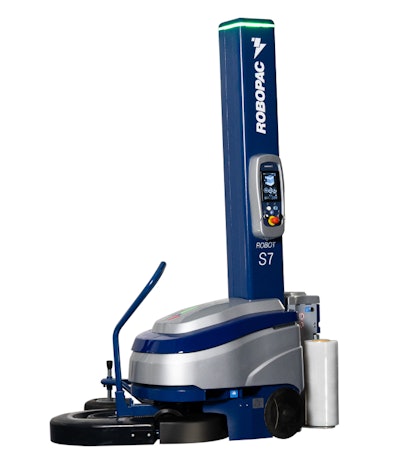 "The product was shifting laterally on the four by eight-foot pallets," says Closet Works President Tom Happ. "We were getting damage claims, and we wanted to correct the issue."
In July 2021, the company attended the AWFS (Association of Woodworking & Furnishings Suppliers) trade show in Las Vegas looking for a packaging solution. There they were introduced to Robopac's automatic and semi-automatic stretch wrappers. After working to understand Closet Works' specific needs, Robopac Regional Sales Manager Nick Szczechowski recommended the Robopac Robot S7 portable, semi-automatic stretch wrapper with roping device, which was subsequently installed at Closet Works' facility in September 2021.
Portable model accommodates oversized pallet
Previous to the purchase of the Robot 7, Closet Works was manually loading containers onto the pallet and wrapping them by hand. "Hand-wrapped pallets are never the same," says Happ. "It's inconsistent at best."
The company's goal was to find a solution that could accommodate a 4 x 8-ft pallet and provide better load containment by roping the products to the skid. The Robot S7 with the optional roping device was an ideal solution due to its ability to handle most load lengths and widths, as well as any weight. "Turntable stretch wrappers are restricted by the size of the turntable," explains Happ. "The Robot S7 allows us to wrap our four by eight-foot pallets with no problem. The machine moves around the entire pallet with no issues."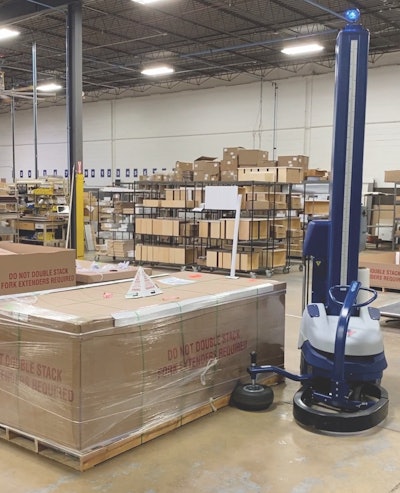 The standard configuration for the Robot S7 semi-automated stretch wrapper features a 20-in. film carriage and a 110-in. wrap-height mast. The portable wrapper is equipped with the company's Cube technology, which allows the machine to precisely control the stretch film on the pallet to ensure load containment and reduce potential product damage. According to Robopac, it can also reduce film usage by 30% to 50%.
Closet Works also opted for Robopac's roping device, which can convert a 20-in. roll of film to a full rope or a variable-width band to provide better load protection and lock the load to the pallet. The roping device is attached to the roll carriage and ropes the entire web of film from the top down. Roping from the top allows the machine to apply a high tension-strength rope of film to the pallet wherever it's needed to improve load integrity.
Says Happ, "Nick adjusted the roping to specific placement on the loads using Robopac's Cube technology. Cube technology allows you to wrap in nine sections, instead of just one total pallet. This means we can dial in how much containment force, pre-stretch, etc., that we want."
Investment reduces damage
Given the AWFS show was held in late July, Robopac shipped the Robot S7 in record time, arriving that September. Of the installation, Happ says, "Robopac was great." He adds, "Nick [Szczechowski] came to our facility multiple times. He helped us make adjustments to our program to make sure we were wrapping right."
The investment has quickly paid dividends. "The Robot S7 dramatically reduced our damage," says Happ. "We were pretty much having damaged skids once per week. It's now one or less per month."
Closet Works plans to expand to multiple facilities in the near future. To continue their packaging recipe for success, they plan to order more Robopac Robot S7 portable stretch wrappers for their new facilities.

---
---
Companies in this article