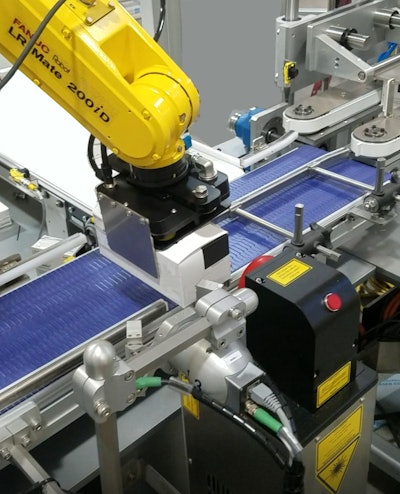 With time of the essence, numerous lines for packaging COVID-19 vaccines were installed or reconfigured to meet public health needs. A major pharmaceutical CMO in the U.S. required one such expedited line for cartoning vaccine vials.
They sought out ESS Technologies, Inc.—an OEM specializing in health sciences—and Videojet because of their long-standing experience in pharmaceuticals and diagnostics. The new line was identical to one that the companies had provided approximately one year prior in 2020. At about the time that first line was up and running, the CMO approached ESS and asked how soon they could procure a second line.
Having been deemed an essential business at the outset of the pandemic, Walt Langosch, global business development at ESS, explains they "were vetted by the Department of Defense, and we were told that this project takes priority over everything else we were doing." ESS sent their quote in Sept. 2020. "Usually, a line of this size and complexity would probably take around 10 to 11 months, but because it was for COVID-19 and it was a priority, we had it installed and running in February 2021," he says.
Cartoning vials
Coming off of a WLS (Weiler Labeling Systems) VR-72 Labeler at 150 vials/min, capped five mL vials arrive at the ESS VC 30 cartoner where they are placed in a 2x5 pattern into a 10-count carton.
A Fanuc SR-6iA SCARA four-axis robot erects the carton and at the next station, a partition is inserted. Cartons and vials are conveyed to the Fanuc LR200iD robotic loader, which places the vials in the carton, followed by an SR-3iA robot that inserts a pre-folded leaflet on top of the vials. See a similar line in action at this link.
The system closes the carton's top flaps, and cartons are laser marked with the lot, expiration date, and a 2D barcode by a Videojet 3340 CO2 laser marking machine. The Videojet 3340 laser system is ideal for high-speed pharmaceutical serialization applications, providing marking speeds of up to 2,000 characters/sec.
---
---
Videojet and ESS worked together to ensure the carton arrived at the coder in the right orientation. An ESS TaskMate® system utilizing a Fanuc LR Mate robot with ESS-designed end-of-arm tooling (EOAT) picks up cartons and shows them to a camera for verification. "We manipulate the carton to code the end panel because the carton is traveling narrow-side leading down the conveyor," explains Langosch. "When it's on the end panel, we must pick up the carton, code it, read it with the camera, and then set it down in a different orientation to facilitate the case packing operation."
A CEL5 Robotic case packer erects the case and places it on a vacuum table as product arrives at the collation station. Cartons then go into the case, and filled cases are labeled with aggregation data by a Domino labeler with a Zebra print engine. An overhead camera shoots into the case to verify that the first layer is in, then the second, and so forth. Everything is fail-safe and must be proven to be "good." The system visually inspects to ensure there are 10 vials, a leaflet, and a coded carton.
Notably, the Fanuc systems are the only robots that the CMO has at their facility, and ESS uses Fanuc robots exclusively in their applications.
ESS Technologies has been an exclusive Authorized System Integrator for FANUC America since 2000. ESS reports that with the highest meantime between failure of any commercially available robot, FANUC robots offer years of reliable performance in addition to their flexibility and ease of programming. "The wide range of FANUC robots, offering solutions for both light payloads and heavy ones, allows ESS to integrate them for machine loading and unloading, pick-and-place, case packing, palletizing, and material handling," says Langosch. "ESS designs the custom end-of-arm tooling using vacuum and/or gripper technologies to create an end effector that will handle almost any product shape. Allen Bradley controls and color touchscreen HMIs make the robotic systems easy to operate."
Coding and marking
The pharma CMO opted to have the code graded, needing to meet the customer's regulatory requirements and pass a certain level of accuracy to be considered good. David Wales, Videojet OEM sales engineer, says, "With barcodes, if it's an internal code that's not customer-facing, usually it's read-or-no read versus ABCD grading. However, if the packaging is customer-facing, the manufacturer abides by a certain regulation— usually pharmaceutical GS1 standards—and needs to be a certain grade to pass. If it doesn't meet specifications, it is rejected." Native software and laser firmware help Videojet lasers like the 3340 CO2 system to meet these requirements with precise, vision-ready codes marked on the packaging.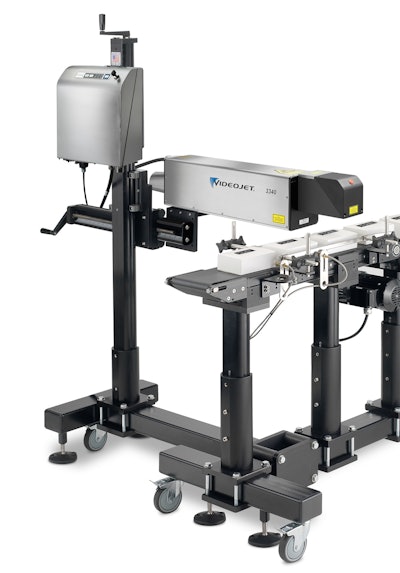 The CMO is aggregating to the case, and the code is graded at the case level, as well. The facility did not have enough room for an automated palletizer, so cases are hand-palletized. Every case is scanned before it goes out to a pallet.
OEMs navigate challenges
As has been reported widely, manufacturers took a number of steps to repurpose packaging lines or increase production for testing and vaccines. In general, Langosch says the biggest issue—which is often a challenge in pharmaceuticals outside of COVID-19 needs—was timing: "As the approval for the vaccine was expedited, so were the lines associated with them. In this case, I think the biggest challenge was getting the design done, getting the lines on order, getting them to the manufacturer and installed, and, most importantly for the customer, getting them validated."
On the supply side, Wales notes, "Not so much in executing equipment hardware, but the electronics supply chain procurement has posed challenges. I think the biggest obstacle for us is not only our customers' urgent need to get product, but with COVID-19 being an interruption, customers are asking for shorter lead times as we are receiving longer lead times from our suppliers. Even while we face challenges in obtaining chips, PLCs, and other electronics, we are expediting electronics where possible to support our customers' needs and prioritizing key projects serving healthcare industries."
Langosch says that procuring raw materials was an issue at times. "It was very difficult to get things like Lexan for guarding, raw materials like steel and copper wire, and certainly electronic components as David mentioned."
Pricing throughout the process was changing frequently, with some suppliers offering a given price for only 24 hours. "We ran into that on occasion, but all we had to do is pull out our letter from the White House that stated, 'Give these people priority,'" Langosch adds.
Results
Once the customer had the system in place, an ESS technician visited the site to check all the connections and test the system. Then there were weeks of testing and validation before the final PQ run.
The line needed quite a bit of flexibility in order to produce other formats and products. "Though the line that we built was dedicated to COVID-19 at the time, they also wanted this line to be able to run the other nine or 10 products that they were running on the first line," explains Langosch. "There were some changes that we made to this second line, because they had been running the first line for six or seven months and they could pinpoint some improvements. Then we went back to line #1 and made the same changes, so they are identical."
With other product formats in mind, a key feature that the CMO is taking advantage of is ESS' commitment to 15-min changeover or less, with no tools. This is important to the customer when they're changing over from one item to the next, which depends on market demands. "All movements of the robot are pre-programmed by ESS. The operator changes to another format via the HMI and the robot motions are changed automatically," Langosch says. Unlike many traditional pick-and-place systems that may require adjustments to multiple axes, the FANUC multi-axis robot only requires an EOAT changeover, which involves loosening thumbscrews, replacing the EOAT, and tightening thumbscrews.
---
---
Videojet installation and support teams worked with ESS to take the necessary actions in meeting the accelerated timeline. "Our service team, the largest in the industry, flexed our expertise and team to optimize the installation. We have also expanded our service and support reach into customer locations through our VideojetConnect™ Remote Service. It enables remote access capabilities for technicians to troubleshoot issues. It's been a good benefit to have during COVID—our technicians don't make changes, but they can view the laser and what the customer is seeing onsite," says Wales. "That's something that we were adding before COVID happened. It just was a huge benefit—a lot of plants weren't letting our technicians in. So, to be able to view that during the pandemic has been a big feature that's helped us out. It helps to diagnose and resolve any issues, and if further functionality is impacted, we can have the right repair components defined and on hand to support a site service call."
ESS also offers remote access with their robotic or PLC programs for customers who want the option. Many in the pharmaceutical industry do not want outside companies going through their firewall, but on occasion, they see the benefit and they can get approval to do so. "If they give us access, we can look at their robotics and PLC and make changes. It gets them running faster, and it's good training experience for their people because they can watch everything that's happening and participate," says Langosch. For other lines, ESS has a preventative maintenance program in which a series of sensors on motors look for vibration, heat transfer, and other parameters. "They're in the Fanuc robots, as well. We deploy anywhere between 45 and 50 robots a year in similar applications, so their predictive maintenance program and our predictive maintenance program together provide insight for the customer."
With the success of this line, the CMO is already looking to purchase another similar cartoner, case packer, and coding solution from ESS and Videojet for a different product's line.
Companies in this article