PMI KYOTO Packaging Systems used PACK EXPO Las Vegas to exhibit its washdown horizontal cartoner (1) for frozen foods such as prepared meals, ice cream novelties, and more.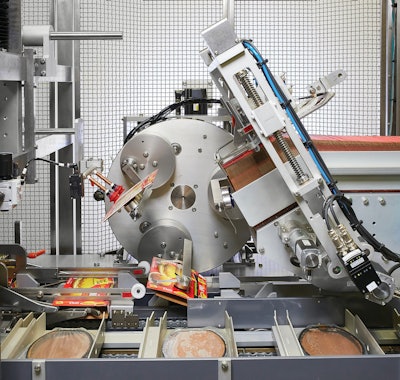 The new, all-servo driven cartoner has a compact design, providing a small footprint and making it easy to integrate. It is designed and built to FDA sanitary standards and features heavy-duty, fully welded stainless-steel washdown construction. Quick and simple changeovers are performed at the touch of a button on the HMI, making it ideal for a variety of SKUs and suitable for CPGs and contract packagers. With built-to-last, quality construction and materials, this system features full-height guard doors with interlocked stainless frame. The system can run cartons or sleeves at speeds to 240/min.
Also ideal for CPGs and contract packagers is the system's flexibility to ramp up or down production as needed. For smaller runs or lower output, a hand-load option is available. When production needs to increase, simply add on a robotic infeed section for higher speeds and added efficiency.
"We're excited to bring a flexible and efficient solution to the market," says Branko Vukotic, PMI KYOTO President. "By offering a washdown horizontal system for frozen foods and dairy, we are able to address the needs of additional industries and bring more value to our customers."
Additional features include a high-speed servo-driven rotary carton placer with pre-break, articulating product buckets with barrel cam pusher heads, servo flap tuckers with cycle stop mode-positive flap closing device, Nordson hot melt glue system and an Allen-Bradley system control platform and HMI.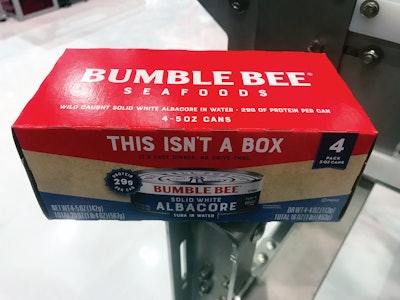 On Day One of PACK EXPO Las Vegas, R.A Jones, a Coesia company, held a velvet-roped unveiling of its future-ready packaging machinery, the Meridian XR MPS-300®. The machine itself is an existing one in the R.A Jones lineup, but it was customized to support The Bumble Bee Seafood Company's shift to a recycle-ready packaging format for multipacked cans (2). The packaging equipment is the next evolution of R.A Jones' multi-packer for canned food and beverages, custom-built to replace Bumble Bee's shrink wrap machines, in what it says is a market-first effort to package seafood multipacks with paperboard.
The Meridian XR was able to meet Bumble Bee's needs of enhanced operational performance, speed, and reliability because of the equipment's adaptability.
"R.A Jones is dedicated to providing high-quality and reliable equipment that can adapt to meet our customer's needs of today and tomorrow," said Jonathon Titterton, CEO of R.A Jones, at the unveiling. "The process of developing the Meridian XR with Bumble Bee proves that our industry partners can take an actionable step toward innovation by shifting to sustainable packaging formats. We're committed to continuing our longstanding history of providing customers with end-to-end insight and engineering expertise, as packaging trends continue to evolve."
R.A Jones' packaging equipment and technology consultation will fuel Bumble Bee's bold sustainability goals, including a commitment to provide readily recyclable packaging, an action driven by consumer, customer, and retailer support. Producing as many as 26 million multipacks (165 million cans) annually, Bumble Bee identified the shrink-wrapped product as an opportunity to continue to meet its commitment to keep plastic out of landfills and out of the ocean. As the first in the seafood industry to invest in and deploy paperboard multi-packaging, the partners set a pace and precedent for the global seafood industry to innovate.
"Moving our multipacks from shrink wrap to paperboard was not a simple process, but as a company we felt strongly that it was the right change to make for our planet, our customers, our consumers, and also for Bumble Bee as a category leader," added Jan Tharp, President and CEO, The Bumble Bee Seafood Company, at the unveiling. "Engaging with an experienced, values-driven OEM partner to guide our packaging format transition was integral to making this work, so partnering with R.A Jones was a natural next step."
While enhancing product protection throughout the manufacturing process, the partnership's packaging solution also equips Bumble Bee with an easier-to-read packaging opportunity for conveying product benefits to consumers at the store shelf. The ergonomic benefits of the paperboard also assist in making the packaging more user-friendly and easy-to-open. When consumer tested against Bumble Bee's current multi-pack, the paperboard packaging earned significantly higher scores in terms of appeal and purchase intent, and it was perceived to be demonstrative of environmentally friendly packaging.
Retail customers have also expressed enthusiasm for the new paperboard packaging, citing increased flexibility in terms of shelf-space options. The new paperboard multipacks are expected to launch in stores as early as the first half of 2022.
Packaging World attended the unveiling at PACK EXPO and spent some time waking through machine features with Jeff Wintring, Chief Technology Officer at R.A Jones. The standard Meridian XR MPS-300 is a beverage multi-pack cartoner for cans and bottles (300 ppm). Unique features of Meridian XR include a four-lane infeed for new packaging options and configurations, integrated can-count verification after loading, and six- and 12-in dual pitch transport. In the customized Bumble Bee application, which entails wrapping cans of tuna into paperboard multi-packs of various formats, Wintring called out a few other unique features.
The machine features a low-level magazine, which allows for easier and more ergonomic loading of the carton blanks into the machine for operators. Carton picking is powered by what's called an air frame system with movable lugs to accommodate a wide range of different board types and sizes. The cartons are mechanically erected within the monoblock with the assistance of pneumatic/air bursts.
The custom machine employs R.A Jones' Acc-U-Change validated changeover platform. Within this system, every change part carries RFID information. When each change part is swapped out, the platform reads the RFID to find out whether it's the correct change part for the recipe indicated. A red light/green light display at the location of each part provides go/no-go feedback to operators on any adjustments or change parts being swapped into the system. The platform simply will not let the machine start back up until every change part is validated as a go, or green. An operator likely wouldn't be tempted to try to start the equipment unless all the lights are green, thus validating the right parts are locked into the correct positions. This allows for what Wintring calls a "vertical" startup, with no need for an operator to slowly ramp up speeds and make small corrections to calibrate the system for its full speed.
"After a carton is erected, it enters a transport system and does an elevation change, extending down into the transport," says Wintring. "That allows us to get the carton around the [tuna] cans we're introducing. Cans are then progressively loaded, with the final loading happening as digital counting occurs. Over the top of this loading, an overhead squaring system was introduced for instances when we need to run cartons that are very tall relative to their length in the machine. It allows us to have a nice, square carton."
---
| | |
| --- | --- |
| | |
---
Considering the supply chain shocks that brands experienced in the wake of the pandemic, fast lead times and quick commissioning have been bigger priorities for brands than they have been in recent memory. So more than one exhibitor at PACK EXPO Las Vegas showed new machines that were already spoken for. Among them was Schubert North America, which debuted its new lightline Cartonpacker at the show and then watched it go home with Michigan contract packager Hudsonville Ice Cream.
"As a contract manufacturer, flexibility in manufacturing is key to success," says John St. Aubin, Operations Leader at Hudsonville. "Future products and formats change frequently as consumer preferences keep altering. While producing for other brands as well as manufacturing our own branded products, flexible end-of-line systems, such as our new Schubert packaging machines, ensure competitive advantage. It's great to see part of our machine system exhibited at PACK EXPO and how it attracts other manufacturers—this confirms once again that opting for Schubert was the right choice." In the photo shown (3) joining St. Aubin (far right) and Schubert Sales Account Manager Stefan Hoffman (second from left) are three of St. Aubin's Hudsonville colleagues: Cary Grover (far left), Danny Ellens (center), and Trevor Tyler (second from right).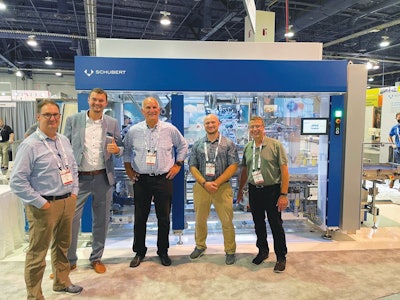 Schubert has a reputation for highly sophisticated equipment. The new lightline model presents brands an option with a lower barrier to entry in cost and commission time thanks in part to higher degree of standardization.
According to Schubert's Hoffman, the new lightline Cartonpacker offers CPGs a cost-effective case packer that quickly automates a packaging process with the most efficient technology on the market. With Schubert's lightline solutions, most of the configuration already is built in. Pre-configuration with limited need for customization provides CPGs with an affordable automation solution with quick commission times.
The exhibited lightline cartonpacker is part of a modular Schubert TLM system that it built for Hudsonville. The co-manufacturer/co-packer produces the famous frozen Greek yogurt bars for the brand Yasso. The case packer was installed together with four cartoners and one more case packer on-site in late 2021.
Another eye-catcher in the Schubert booth was the PARTBOX by Schubert Additive Solutions. The digital PARTBOX platform enables manufacturers to make their own production parts from anywhere in the world. 3D models with certified print jobs are stored on the digital platform and can be produced at any time anywhere using a standard FFF 3D printer. The technology was one of the finalists for PACK EXPO Las Vegas' Technology Excellence Awards.
---
---
Adhesive Melter Simplifies Operator Interface, Knows What It's Melting
Robatech showcased its Vision adhesive melter (4), designed to melt thermoplastic hot-melt adhesives. According to the company, it maintains a constant adhesive viscosity and conveys hotmelt at a consistent pressure to the application head, as it should. But its operator-friendly features really set the system apart.
Using what it calls a Smart Terminal, which consists of changing colors on an LED strip on the front of the device, current operating and status information is displayed to operators at a mere glance, simply and intuitively, rather than using a complex interface that requires scrutiny. The advantage? Even from a distance away, the operating personnel can recognize whether the gluing process is running smoothly or whether, for example, the adhesive needs to be refilled. Displays of the current pump pressure, status codes, and four function keys facilitate operation and rapid intervention.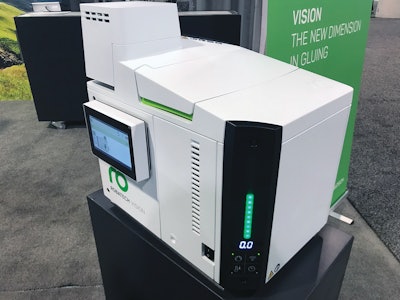 "The first thing you're going to notice with this machine is the simplicity," says Tyler Henderson, Robatech USA. "There aren't a lot of buttons on the front so it's very simple for your operator to navigate. You have pump, WiFi, timer, and temperature, and that's it. The LED strip indicates the level of adhesive inside the tank, as calibrated to the molten adhesive. What's great about it, and why we say that it's intelligent, is it would tell you if you were using the wrong adhesive. You have manufacturing plants that may require several different kinds of adhesive for different applications, so that's something that easily could happen. That's the big thing for us, being able to intelligently measure the adhesive level inside of the tank."
Vision offers machine manufacturers many options. The melter can be installed lengthwise or crosswise: it is operated remotely or via the optional Touch Display, which is mounted at the front or side. The 45-deg FlexPort connection surface allows heated hoses to be connected at different angles to save space. This gives customers the flexibility to position vision at the shortest possible distance from the application heads, keeping the heated hose length short. Besides that, the Robatech Control System offers open interfaces and standardized Fieldbus protocols for easy integration into complete systems.
---
---
Companies in this article
Videos from Nordson Corporation