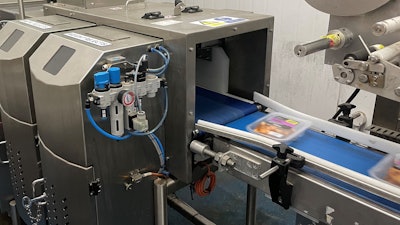 Manufacturers since 1972 of poultry products for some of the biggest names in the U.K.'s food industry, Cheshire, U.K.-based Forresters produce roasted, steamed, marinated, and sliced chicken portions for 128 different SKUs. Amounting to 60 tonnes [66 U.S. tons] of chicken daily, its customers are mainly retailers, including Lidl, Aldi, Iceland, and Morrisons, plus some food service companies.
Operating 15 production lines, Forresters needed an inspection solution that would allow it to achieve fast switching between a high throughput of multiple packaged products, while maintaining inspection and weighing accuracy. The company's aim was to simplify the production line by replacing metal detection equipment and check weighing systems from different builders with a combination system from one vendor. This would result in a reduction in product give-away and provide a smaller footprint to allow for more spacing in between lines on the shop floor, while being flexible enough to handle the product-changeover demands.
Following a competitive tender, Forrester's landed on Loma's IQ4 Combination System for simultaneously detecting metal contaminants and reducing food giveaway, plus enabling quick and accurate product switches. Having previously invested in a Loma metal detector 17 years ago, which was still functioning, Loma's 'Built to Survive' attribute was seen as an important factor in Forresters' decision making process.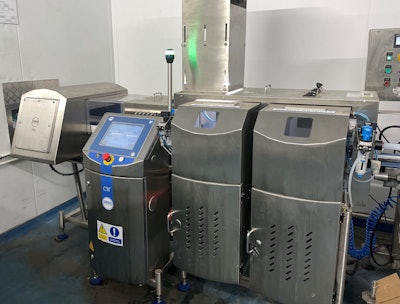 "It didn't take long for us to understand that Loma's solution was the best for us. The IQ4 Combo is really easy to operate and we now don't need to train operators on two different machines anymore," says Angus Dilliway-Parry, Operations Director, Forresters.
Combining the sturdiness of Loma's IQ4 metal detection technology and the accuracy of CW3 checkweigher, the IQ4 Combo offers a single touchscreen control with an easy-to-use icon driven menu for easy operation and integrated machine communication. The combination system proposed also suited Forrester's space reduction needs, saving around 25% of floor space within their production line.
"We're also very pleased with the visibility the new systems provide, with set tolerances stopping unnecessary product give-aways, ultimately saving us money. Additional savings include having the same maintenance regime for metal detectors and checkweighers," Dilliway-Parry adds. "From ordering the machines, checking sizes, to making sure we received what we needed, Loma are one of the best companies we've worked with. They really go through everything in detail, which was very reassuring. We are so pleased with our new system's performance and support; we have accelerated the timing of roll-out to all lines." - PW
Companies in this article