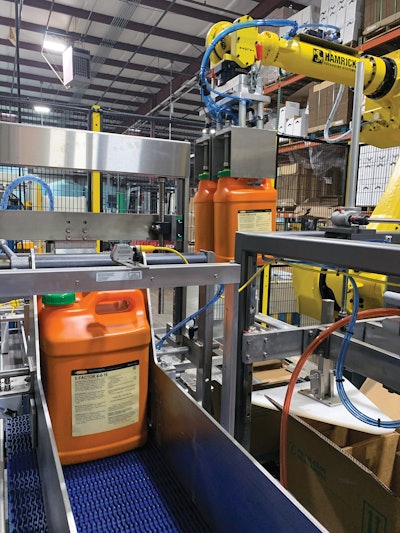 Floratine Products Group of Colllierville, Tenn., is a leading producer of biostimulants used for many years as fertilizers for golf courses and other sports turfs. But management realized that its products are just as suitable throughout most categories of agriculture as they are for fairways and putting greens, so they made a concerted effort to broaden the firm's marketing message in an effort to expand beyond their previous niche market. That resulted in an increase in demand, which in turn made automated packaging operations more appealing than ever.
Targeted first for automation was case packing and palletizing of extrusion blown HDPE bottles. In the past, the 21⁄2-gal filled bottles were placed into triple-wall corrugated reshippers with center dividers by an operator who used a vacuum-assist device to lift and insert the 20- to 35-lb bottles. Not only was this slow and inefficient, it was difficult to avoid damaging the reshippers due to the heavy weight of the bottles being handled. As for palletizing, it was strictly a manual operation.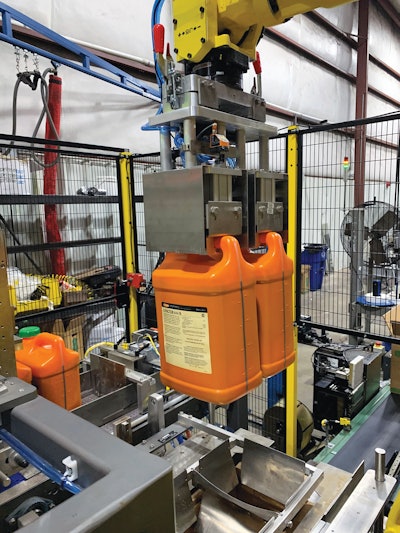 Now the case packing is done on a system from Hamrick that relies on an M-710iC robot from Fanuc. Rockwell controls include a CompactLogix controller, Powerflex 525 drives, and Panelview HMI. And palletizing is done on a low-level-infeed palletizer from TopTier. According to Director of Operations Justin Eason, throughput has been doubled to 12 cases/min, damaged packaging has been greatly reduced, and because operators could be reassigned elsewhere in the plant, the labor savings will provide a 2.5-year ROI.
Eason says that when the firm began looking to automate case packing, a robotic solution was not necessarily a given. In fact, a drop packer was the original plan. "I went to see a Hamrick drop packer operating at a plant in Louisiana that was handling a 21⁄2-gal bottle similar to ours," says Eason. "But our products are so packed with nutrients that the specific gravity of our filled bottles is probably twice what it is for the bottles I was watching. I worried that a drop packer just couldn't stand that violent dropping motion without being structurally or mechanically compromised in short order. So we decided to attend PACK EXPO Las Vegas 2019 to see what our options were. We talked with plenty of machine builders, including Hamrick. And it didn't take long to see that the robotic action, which gently lowers the heavy bottles two at a time into the reshipper, was going to be the best approach."
Eason says he was especially concerned about damage to shipments that go to international markets by way of sea containers. "We sell a lot of product overseas," he explains, "and we can't afford to have a bottle leak in one of those sea containers. All it takes is one leaker to ruin half a truckload, and once that happens you don't get those bottles back. You just eat the cost."
Unchanged in the Floratine operation is the manual removal of bottles from reshippers and infeed of bottles into the filler. Also unchanged, for now at least, is filling, capping, and labeling. Operators remove empty bottles from their reshippers and put the bottles on a conveyor leading to the filler/capper while the reshippers go on a parallel conveyor leading to the Hamrick robotic system.
Infeed to case packer
Filled and capped bottles enter the case packer single file. The bottles get turned 90 degrees by a turning hook so that they are wide side leading when they reach the case packer. Bottles are indexed two at a time into the pick station, and right beside them are the corrugated reshippers in their parallel conveyor. Major and minor flaps are mechanically plowed open and held open throughout the bottle-insertion process. Meanwhile, the Fanuc robot uses its end-of-arm tooling to pick two bottles and place them into a waiting case. A centering frame helps ensure spot-on positioning as bottles enter the case.
Hamrick made the end-of-arm tooling, which uses two pneumatically driven clamps to mechanically close on the container handles for the purpose of lifting the heavy containers. Also making an important contribution to the picking and placing process is a vacuum suction cup on each end-of-arm tool. By closing firmly on the cap, the vacuum cup becomes in effect a second gripper. Not in the sense that it will help lift the heavy bottles, but rather in that it provides a steadying effect.
"When the bottles are lifted and swung through the air that short distance to the reshippers, the liquid content inside sloshes and makes the bottles want to sway," says Eason. "That extra bit of contact provided by the vacuum cup brings a little extra stability and keeps that swaying from becoming a problem. It works out beautifully." Operating at about six cases/min as the case packer now does, that is a welcome contribution. But in the near future, when a new and faster filler will replace the one currently operating, speeds will be more like 12 cases/min. Under those circumstances, any added element of stability on the case packer will be most welcome indeed.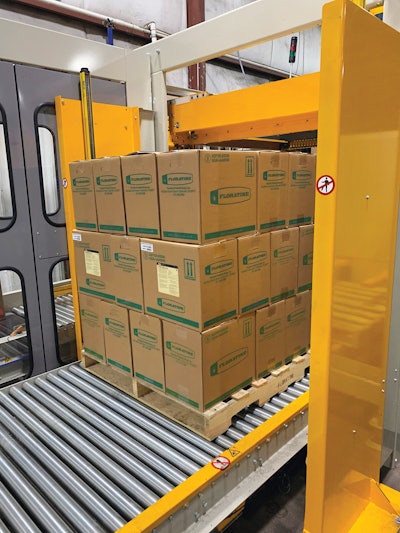 Worth noting on the Hamrick case packer is the inclusion of a remote access device from Ewon. The Ewon Cosy establishes a secure VPN connection from the machine to anywhere in the world via a cloud-based remote connectivity solution. The gateway seamlessly communicates on the local area network with the Rockwell PLC and HMI, allowing remote connection from a computer, tablet, or smart phone.
The filled reshippers exit the Hamrick case packer and are taped shut and given labels by equipment that has been in place for some time. Next is palletizing. Research for this equipment was also done at PACK EXPO Las Vegas. "The TopTier machine was the best option available that could handle the weight," says Eason. "We're close to a thousand pounds per layer. Plus, because we ship to 31 countries, we need to use more than one pallet format, and it accepts all three formats that we need to use."
Virtual FAT
The new packaging equipment has been running now since July, and Eason says he's pleased with how smoothly it's gone. "There were some delays caused by the pandemic, and the FAT had to be conducted virtually because it wasn't clear there'd be a hotel for me to stay in if I traveled to Hamrick in Ohio for an in-person FAT," says Eason. "But the equipment running in our plant now has been just flawless."
Eason notes that additional improvements are just now being implemented, most notably perhaps a new filler from G&B Packaging Equipment. A four-nozzle inline filler using positive displacement pumps, the Aurora Elite delivers on two key performance characteristics: versatility and accuracy.
"These products are very expensive, so overfilling of any kind would be a big problem," says Eason. "With this filler I get plus or minus a half a percent."
The versatility component is important, too, says Eason, because other bottle sizes are also filled on this filler. "I can change to a new size in 20 minutes," he says. "And as our business continues to evolve and change now that we're broadening our target market, I expect additional bottle types and sizes to be introduced."
Go here to see a wide range of robotic technologies featured at PACK EXPO Connects.
Another area of improvement is in vision systems. Nearly all of Floratine's labels arrive with little more than company branding information printed on them. Things like date and lot codes and instructions for use—all done in the language of the country to which the production run is being sent—are printed online by a thermal-transfer print-and-apply unit from ID Technology. Also thermal-transfer-printed and applied online by a CTM Labeling unit are case labels having the required identifying information on them. Cases also receive a corner-wrap label, thermal-transfer-printed by a unit from Diagraph, having just a bar code used for internal inventory systems.
In the past, Floratine relied on operators to visually inspect bottle and case labels. But now being installed are two Cognex In-Sight 9912 ultra-high-resolution area scan vision systems. One will perform cap inspection and will inspect for label presence and print accuracy on labels applied to bottles. The other will inspect for label presence and print accuracy on labels applied to cases. These inspection upgrades will allow Floratine to redeploy as many as four operators to tasks elsewhere in the plant.
Watch a video of the case packer in action at: pwgo.to/5851.
Companies in this article
Videos from Diagraph, An ITW Company